Every adult will need to hang a picture, assemble new furniture or carry out house repairs one day in his life, and they need to buy a power drill for their work. Then you want to wholesale power drill, but is this power drill wireless? If so, is it the best power drill on the market? BISON has a wide range of power drills to choose from, which is why we took the time to put together a handy guide on the best electric drills wholesale in 2021. It will explain all the information you need to know about electric drills and help you decide the best electric drill.
What are you going to drill?
Before we start, you must take a moment to think about the people you want to sell to help narrow your search. The people doing the drilling will determine the type of drilling machine you wholesale. For general indoor drilling work, we recommend wholesale 12-volt brushless motor drill kits with a pair of lithium-ion batteries. These electric drills provide the best combination of power, mobility, running time and cost. They are not designed for active use throughout the day, but they are fully capable of basic home maintenance.
What are the types of power drills?
Cordless Drill
Cordless drill is ideal for various tasks, such as drilling or driving screws. Use battery-powered drills to provide unrestricted mobility. Today cordless drills are powered by more efficient rechargeable lithium-ion batteries, which are usually fully charged in less than 60 minutes and can last longer. In addition, you can change the battery between most other types of power tools, which helps reduce the cost of purchasing multiple batteries.
Corded Electric Drill
Whether you are drilling holes in wood, metal or concrete, its stable power supply can provide unlimited running time. Corded drills are generally lighter than cordless drills because they do not have a battery pack. Corded drills can provide high power. Stable power supply means longer running time, no need to stop to recharge the battery. You can wholesale suitable power cords together at BISON.
Right Angle Drill
The right-angle drill is designed to form a 90-degree angle with the handle, making it easier to work in small spaces. For example, between floor joists. The chuck on the right-angle drill is installed at a 90-degree angle to the drill body.
Hammer Drill
Hammer drills are very suitable for heavier work at home. Multiple torque settings allow you to control power while maintaining low rpm, so it can provide power through a hard surface while limiting damage to the surface area. It is suitable for drilling holes on hard surfaces such as masonry and concrete.
SDS Hammer Drill
The SDS electric drill has the same function as the hammer drill, but the hammer action is improved through the SDS function (trough drive system), which can easily penetrate the hardest materials.
Air drill
Air drills are contractor-grade tools that use compressed air instead of electricity to operate. These drills need to be connected to a suitable air compressor.
Drill press
The drill press can create holes at precise intervals and precise depths. You can drill at almost any angle without worrying about the bit movement and other issues.
Rotary Hammer
Rotary Hammer is designed to break hard materials such as concrete, asphalt, bricks and blocks. They have a stronger impact on the surface and can also be used to chisel channels in masonry and remove tiles.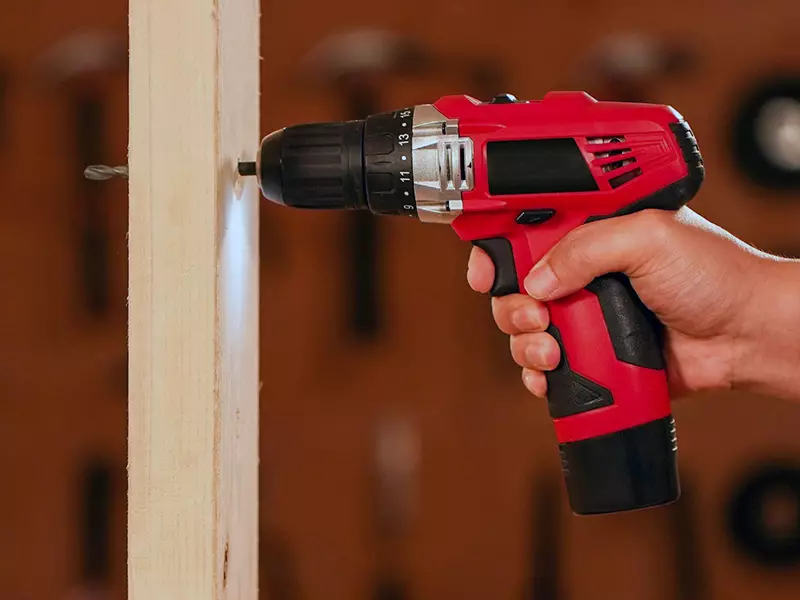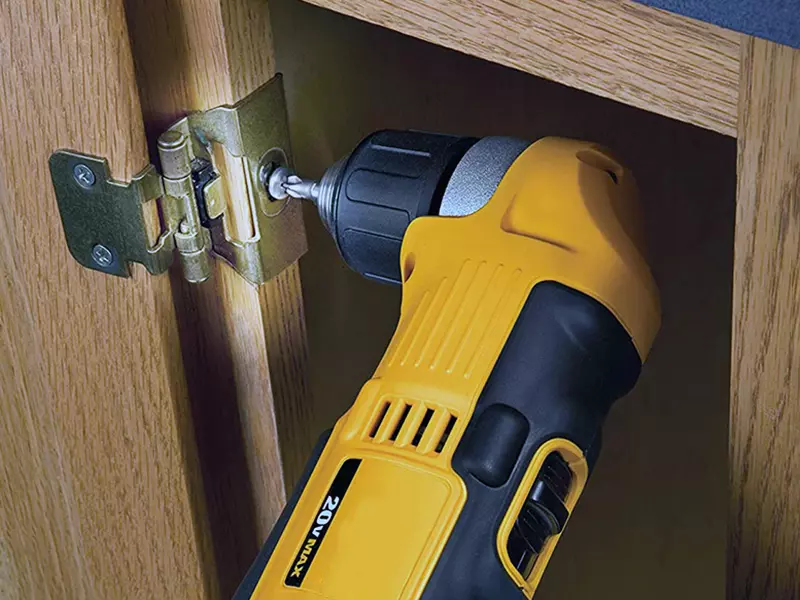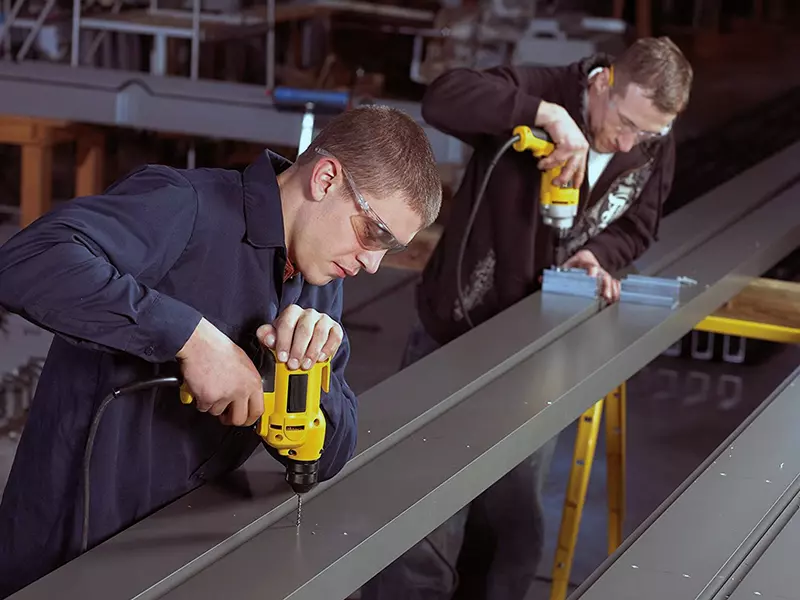 The best power drill wholesale guide
Power supply: BISON provides cordless drills with 12 volts, 18 volts and 20 volts. Generally speaking, a 12-volt electric drill has enough power to complete most home maintenance projects. 18-volt electric drills provide more power, but they are often more expensive. If you just want to sell to people who are engaged in simple maintenance work, you don't need to wholesale them. This kind of power drill is often suitable for maintenance personnel engaged in professional work.
Ergonomics: People need a small, comfortable to hold, relatively light power drill.
Brushless Motors: Compared with traditional brush motors, brushless motors can make tools smaller, longer battery life, and greater power.
Size: Electric drill is available in three sizes: 1/4 inch, 3/8 inch and 1/2 inch. A 1/4 inch chuck is sufficient for light-duty drilling rigs. The 3/8 inch electric drill is suitable for common tasks around the house. The 1/2 inch drill bit can handle heavier applications.
Speed: Variable-speed electric drill has an adjustable clutch, and your customers can set the electric drill to the required torque level. . Because drilling softwood, hardwood, metal and masonry all require different speeds and torques. Harder materials and larger drill bits require lower speeds and greater torque.
Efficiency: Compared with some power drills with key-type chucks, many drills have keyless chucks, which can be tightened or loosened by hand, making them more efficient.
Design: The handle of the T-shaped electric drill is close to the middle of the drill body. This design can distribute weight to achieve better balance and reduce wrist fatigue. Other power drills use a pistol grip design with the handle at the rear.
Convenient Functions: Most electric drills have additional functions such as belt clips and LED lights. A wide and easy-to-use belt clip and an LED that effectively illuminates the work area can help electric drills sell better. The built-in spirit level helps you drill holes and install fasteners more accurately. Adjustable side handles allow you to perform heavy drilling tasks with greater stability and control.
There are many types of power drills, each with a specific function. You may want to know what BISON can provide.To meet your needs, we reviewed the most important characteristics of the different types of electric drills, which also include their functions and the types of projects they are best suited for. This can help you determine the type and parameters of the electric drill you want to wholesale. You can also wholesale a combination drill that includes all the accessories, so that no matter what your customers want to use it for, they can complete the job smoothly. Combination drills provide great versatility. With suitable drill bits, they can be used to drill and screw in a variety of materials, including wood, metal, ceramics, and masonry. If you can't find the function you want or the electric drill specification that meets your needs, please contact us. Bison is a Chinese electric drill factory that provides customized services.
Here are some safety precautions to keep in mind:
Wear glasses or goggles
Make sure the drill bit is properly secured
The fingers need to stay away from the rotating drill
Do not use electric drills near flammable liquid containers
For a wired drill, you need to make sure that it is properly grounded
During operation, do not use excessive pressure to forcibly drill holes (especially small diameter drill bits),
Unplug or replace the blunt bit after the bit has cooled