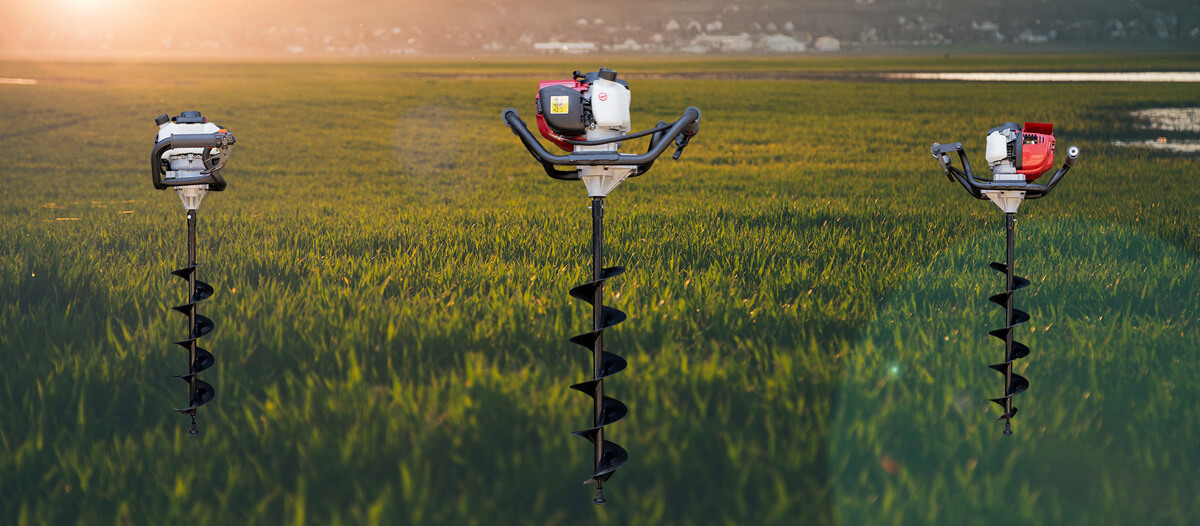 When everyone has to dig deeper, BISON ground drills will help get the job done quickly and efficiently. They penetrate quickly into the ground and are especially suitable for hard soils. With simple controls at their fingertips, anyone will have precision and power. Whether collecting soil samples, drilling plant holes or erecting fences, with our wide range of accessories, you can meet the needs of your users. BISON PERFORMANCE - BUILT TO USE.
What is an earth auger?
An earth auger is a screw-looking tool that cuts through the soil, creating perfectly round holes in the ground with minimal effort. Earth augers are used for landscaping and gardening tasks such as planting trees, shrubs, and flowers and other tasks such as aerating the soil and fertilizing trees. Smaller garden augers are great for growing flowers, while larger, heavy-duty augers make digging larger holes easier, even in stubborn rocky soil. With the earth auger, you can efficiently and quickly complete gardening and landscaping jobs without the hassle and stress of digging with a shovel.
What you need to know about auger
With the multitude of augers on the market for various applications, choosing the right auger largely depends on what it needs to accomplish. A woodworking or drilling company may require a highly specialized auger. However, homeowners looking to achieve various tasks around the yard can opt for a general-purpose handheld or electric auger for different gardening, landscaping, and home project tasks.
Earth auger size
The earth augers range in diameter from 2 inches to 9 inches. They measure between 7" and 48" in length. Augers with longer shafts do the job faster than a shovel, allowing the operator to stand upright. Larger augers (4, 5, 7, 8 and 9-inch diameters) are designed for digging large holes and require more power than smaller diameter augers.
The things can do with an earth auger vary depending on the size of the auger. Here's a quick guide to help you choose the tool that best suits your needs:
The two-inch and three-inch augers are ideal for gardeners, allowing you to quickly and easily plant bulbs and bedding plants. It's also the perfect size for root aeration and installing smaller plant stakes or poles.

The four and five-inch augers drill a larger hole, perfect for setting up smaller fence posts or planting annuals and perennials in quart-sized pots.

The seven-inch diameter auger is large enough to grow annuals, perennials, trees, or shrubs in gallon to 3-gallon-sized pots. They can also drill a hole big enough for a 4×4 post.

Eight-inch and nine-inch diameter augers are ideal for growing potted plants in 2-5 gallon containers. These are large enough to accommodate larger fence posts or 6×6 posts.
Earth auger specifications
The primary specification for all earth augers includes feed screw requirements such as inside diameter (ID) or core size, pitch length or outside diameter (OD) of the threads. Other specifications include torque, speed, weight, forward thrust, capacity and direction.
Specifications are an essential reference point to help properly use any earth auger. Industrial earth augers contain critical information for the job. Consider the specification of:
Earth auger material
Earth augers are usually made of steel, although steel's quality and durability may differ from products made from varieties such as stainless steel and carbon steel. Many augers also have a tip or core made of a superhard material such as a diamond.
earth auger is a worthwhile investment. However, an auger becomes a time-saving necessity for those who need to do a lot of digging. DIY gardeners can use the auger to turn a weekend's work into an afternoon. Power augers can minimize digging time and the work required on larger jobs, saving both professional contractors and clients money.
power source
The engine is another factor to consider. There are usually two types: electric (which in turn can be classified as cordless or corded), and gasoline.
Each of them has its advantages and disadvantages. For example, if you plan to use it for a long time, several hours a day, a gasoline engine may be more convenient, since it won't drain as quickly as a battery (and you're not limited to a battery cable).
weight
Weight is the determining factor in the use of an auger. If it's heavy and it's hard for people to move it. Then it will become a burden every time you use it and it will affect your business.