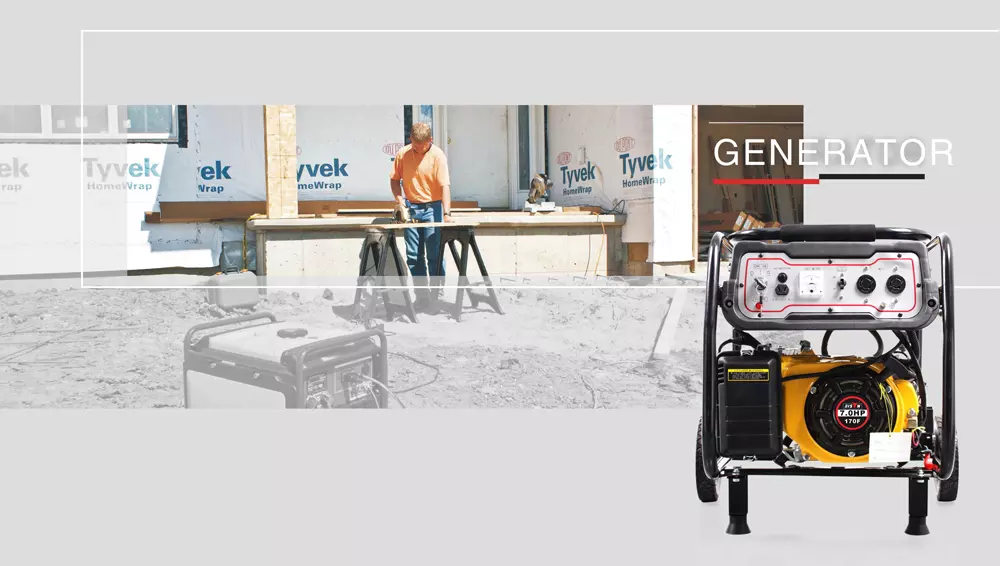 Wholesale generators from China factories
BISON offers a series of generators to suit all applications. From pure sine wave inverter generators, gasoline and diesel generators, etc., to portable generators or silent generators with recoil or electric start. A good generator can be used for many purposes, such as emergency use at home, powering outdoor electric tools or operating RV equipment.
There are a variety types of generators on the market, depending on their fuel type, connection method, starting method, and their technology. If you want to know more about the classification of generators, please click to read this article.
According to their connection method, we can divide generators into single-phase (gas or gasoline generators with power up to 5kW) or three-phase (diesel generators with power greater than 10kW).

According to the different fuels, we can divide them into gas (LPG or natural gas), gasoline or diesel generators.

According to their starting method, we can divide them into electric, recoil start or remote start.

According to their technology, there are two types of generators: conventional and inverter generators.
Any generator you wholesale must meet three important criteria: sufficient power, easy start-up, and reliability.
Enough power
The most important criterion when choosing a generator is the amount of power it produces, measured in watts. The manufacturer specifies start-up watts and operating watts. The starting wattage is always a higher number because many devices need more watts to start up rather than keep running.
For emergency home use, BISON recommends using a generator with at least 3,000 watts of operating power. This should be enough to meet most of the key requirements (lights, refrigerator/freezer) and some additional requirements such as radio, TV and mobile phone chargers.
If you use an inverter generator, then you don't need to worry about computers, mobile phones, tablets and other sensitive electronic devices being damaged due to power fluctuations. However, the power generated by an inverter generator will be less than that of a gasoline/diesel generator. If you wish, BISON's inverter generator can also be combined with another unit to increase its power output.
Fuel source
Gasoline is the fuel of choice for small engines and is common due to its easy availability. Of course, you will also see generators running on diesel fuel, but these generators tend to be more expensive.
Propane generators are a good alternative to gasoline models, but they are less common, and a good propane generator may be a bit more expensive than comparable fuel generators. One of the advantages of propane generators is that propane can be stored almost indefinitely. In addition, propane tanks are safer than tanks filled with fuel.
For consumers who want flexibility in choosing fuel sources, portable dual-fuel generators can be operated with gasoline or liquid propane. There are even three-fuel generators that add natural gas to multiple options.
start up
The BISON generator has a simple starting mechanism-usually a recoil starter: a simple pull cord, like the type used in most gasoline-powered lawn mowers. Some models have an electric start function, but also include a backlash starter as a backup.
operating hours
The working hours of a generator vary greatly. Generally speaking, the more electrical and electronic devices connected to the generator, the shorter the running time. The 3 to 4 gallon fuel tank in the traditional gasoline generator we chose should be able to run for about 10 to 12 hours. The fuel tank of the inverter generator is much smaller, usually only one or two gallons, so the running time is usually shorter. But the inverter generator can automatically adjust the engine speed to consume less fuel when running lighter loads.
wheel
Generators are heavy, usually over 100 pounds (and no fuel). Many generators include a wheel kit as part of the package. The smaller inverter generators are light enough that they don't really need wheels.
noise
Generators can be very noisy, although many have silencers. But even this may feel very noisy to some people. The noise generated by inverter generators is generally lower than that of traditional generators, usually 50 dB or lower. This is one reason why they are often the first choice for camping trips or RVs.
Comprehensive warranty for BISON generators
BISON provides a one-year warranty to all individuals and companies, but we provide permanent service support. What is covered by the warranty? Any manufacturing defects or any failures that may be caused by such defects; transportation costs to our factory; similarly, defective spare parts. What is not covered by the warranty? It does not include reasonable wear and tear of various consumables (air filters, batteries, spark plugs, etc.) or accessories.
Generator accessories and parts
We sell various accessories, repair kits, etc. for most brands of generators.
If you want to find a suitable generator supplier in China to meet your wholesale needs. Please contact BISON. We are a generator factory in China, we can customize any kind of generator you want.