Fortunately, BISON will be here to help you solve your problems. We have a wide range of inverter generators, ranging from 1250 watts to 5000 watts. China BISON is a professional inverter generator factory&supplier. Wholesale best inverter generator at a competitive price.
What is an inverter generator?
An inverter generator is a type of generator that can process electricity into electricity similar to that of the public grid. This type of equipment mainly obeys Faraday's law, when a displacement occurs between a conductor and a magnetic field, an electric current is generated. Its fuel is usually gasoline or diesel, of course, there are also inverter generators of other fuel types. Inversion refers to the conversion of electric power from direct current (DC) to alternating current (AC), which is the opposite of the rectifier that converts alternating current to direct current. Direct current refers to current that flows in only one direction in a circuit. Alternating current refers to the current that switches directions on a circuit, which is also the type of current used in our homes and businesses.
Inverter generators can be light, heavy, or equipment installed in recreational vehicles (RV). Inverter generators are usually the first choice for daily power generation because they run quieter than traditional generators and help protect electronic equipment, precision equipment, etc.
Inverter Generator Purchasing Points
Before purchasing a variable frequency generator wholesale, the following factors must be considered:
Where are you going to use it?
Portability is a big advantage of inverter generators, but there are still big differences in portability between different models and manufacturers. For camping trips, the lighter the better. Look for models with comfortable grip and wheels that can roll well on uneven ground. For motorhome trips, you can use a slightly larger and heavier model for management, because you don't have to carry it with you. For motorhomes, when you gain more power, the extra weight is worth it.
How much power inverter generator do you need?
What do you plan to run on the inverter generator and how long will it take? This may be the most important question. You need to list all the electrical equipment that you want to charge or run on the inverter generator, and then calculate its power. Then select the generator of the appropriate power and the generator oil tank of the appropriate size. The correct wattage will meet the needs of a specific population, ensure adequate power supply, and you can sell better.
E.g,
If the application is camping or in an RV and needs to be moved around a lot, it may be beneficial to find a portable inverter generator that is easy to handle, although this type of inverter generator tends to have a small power output. Also, you need to pay attention to the weight of the generator and whether it has handles or wheels or something.

If you need a lot of electricity to support important machines and appliances in your home. Most large inverter generators have a maximum power of 7,000 watts and can cover critical equipment until power is restored. If you want more than that, then you may want to opt for a traditional generator.
What is the acceptable noise level in the area of use
Inverter generators are already much quieter than traditional portable generators, but there are still some differences in noise levels between different models of inverter generators. The inverter generator produces 58 decibels to 62 decibels of sound at full-rated output. Due to the compact design, the inverter uses a smaller motor, which reduces noise levels. Another noise reduction feature is the ability to operate at different output levels. BISON inverter generators are loudest at full load, but not all jobs require that much power. A quieter experience when maintained at the output level of a smaller job. In addition, the body shell also takes most of the credit for reducing the sound. The inverter is made of insulating sound-dampening material that absorbs the noise generated by the generator, making it an ideal power source for camping or residential areas. Customize a suitable generator according to the noise regulations of the area.
What is your budget?
The last question to ask is how much you are willing to spend. Of course, the larger your budget, the more functions and quality of the generator. BISON is a Chinese inverter generator factory, which can customize generators according to your specific needs.
Fuel
You can choose between gasoline, diesel and propane depending on your needs. Gasoline is the cheapest and most flammable type of fuel. For this reason, it cannot be used in enclosed spaces or areas with fire hazards. Propane, on the other hand, is not flammable, which means it can be used in any environment without worrying about anything. Diesel is very clean and can be used safely in any environment. Generator capacity is measured in gallons per hour (GPH). This means that if your generator has a GPH capacity of 1 gallon, it will be able to run for an hour before running out of fuel.
Safety
Ensure that the inverter has safety functions such as surge voltage protection, low oil shutdown, and overload protection. In addition to these features, GFCIs and covered sockets allow users to use the machine safely.
Types of Inverter Generators
Open-frame inverter generators: Open-frame inverter generators are typically larger and more powerful than other types. They are designed with an open metal frame that helps dissipate heat, though this design also tends to make them louder. However, advancements in BISON technology have led to the development of quieter open-frame models.

Closed-frame inverter generators: Closed-frame inverter generators are enclosed, which reduces noise significantly compared to their open-frame counterparts. However, they generally have less power output.
Other factors to consider
Fuel efficiency: Many inverter generators have an "eco mode" feature. This adjusts engine speed to match load, improving fuel efficiency – a selling point for cost-conscious customers.

Output options: Prioritize models with multiple output options (e.g. 120V AC outlet, USB ports) to accommodate a variety of appliances and devices.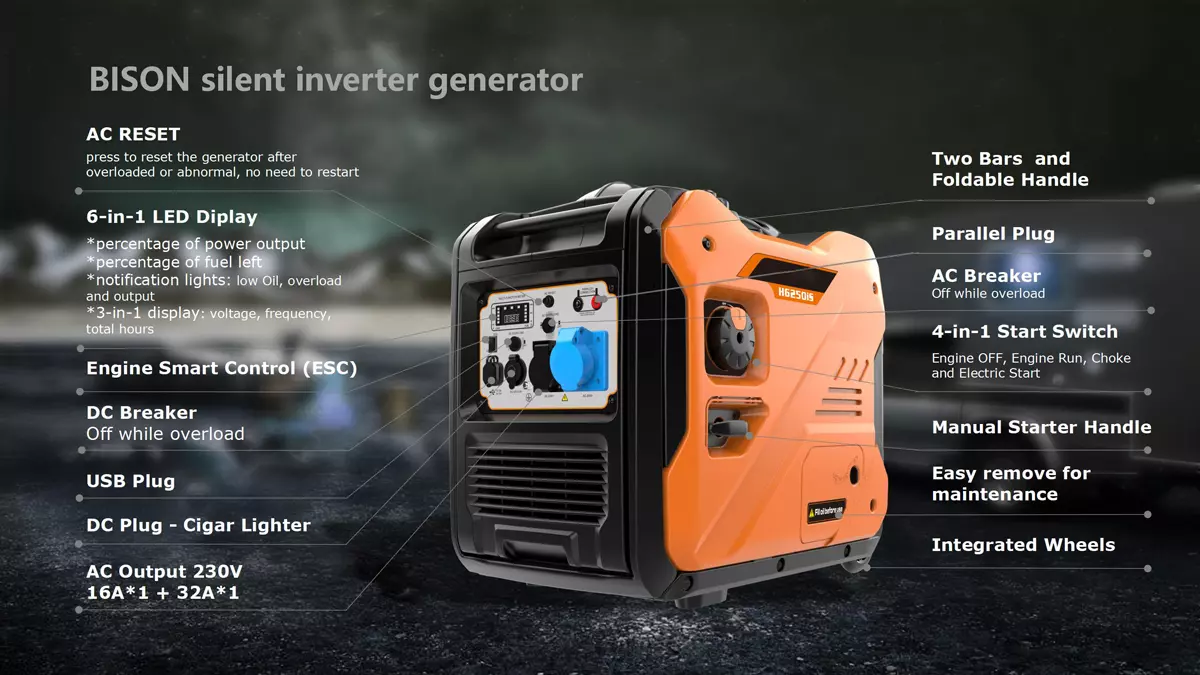 Inverter generator usage guide
It must be placed in a safe place and placed horizontally.

Do not contact liquids.

Children are forbidden to operate.

Pay attention to electricity safety.

Avoid using it indoors or in enclosed spaces. Remember, every internal combustion engine produces carbon monoxide.

Dispose of fuel safely.
Inverter generators are suitable for demanding precision electronic instruments, computers, lamps, UPS, LEDs and other equipment. In addition, large-scale RVs, engineering vehicles, TV OB trucks and other outdoor operation vehicles are inseparable from inverter generators.
Maintenance of inverter generator
Improper maintenance of the inverter generator will affect the normal operation of the equipment, shorten its service life, and invalidate the warranty. If the generator is working in a dusty or high-temperature environment, it should be maintained more frequently.
BISON inverter generator maintenance procedures:
Engine oil: Check the oil level before each use. Change the oil for the first time after the first 20 hours, and change the oil every 100 hours for the second time and thereafter.

Oil filter: check and clean every 50 hours. Replace it when it looks bad.

Spark plug: clean and adjust the electrode every 50 hours. Replace it up to 300 hours, or when it is damaged or cannot produce good sparks.

Engine valve: adjusted every 500 hours.

Combustion chamber: clean every 500 hours.

Filter and fuel tank: clean every 500 hours.

Fuel hose: Replace every two years or when damaged.