Small gasoline engines are a well-known engine type in the category of internal combustion engines. Small gasoline engine is an internal combustion (IC) engine that uses gasoline as a fuel to convert internal energy into kinetic energy. First, the gasoline injection system is used to inject gasoline into the cylinder. After it is compressed to a certain temperature and pressure, it is ignited with a spark plug to expand the gas and do work.
Small gasoline engines have high auto-ignition temperatures, so they usually have a compression ratio of 6:10. Small gasoline engines can also run on fuels other than gasoline, such as natural gas (CNG), LPG, propane. The multi-fuel engine provided by BISON will also give your equipment more functions.
The speed and efficiency of small gasoline engines
A small gasoline engine runs faster than a small diesel engine. This is because the engines' crankshafts, connecting rods, and pistons are all light (because the lower compression ratio improves design efficiency), and gasoline burns faster than diesel.
The piston stroke of a small gasoline engine is shorter than that of a small diesel engine. For this reason, the piston stroke of a spark ignition engine is completed in a shorter time than that of a diesel engine. But a small gasoline engine has a low compression rate, which makes it less efficient than a small diesel engine.
Generally speaking, the thermal efficiency (on average) of most small gasoline engines is around 20%, about half that of small diesel engines. However, some of the latest small gasoline engines are more efficient (about 38% thermally efficient) than older spark-ignition small engines.
Features of BISON small gasoline engines
Easy to start: BISON applied a new starting technology to reduce the pull force of the recoil starter by approximately 15%. The BISON gasoline engine is equipped with a new carburetor and an improved ignition system to ensure the success rate of starting.

Gears such as camshafts have also been optimized to reduce internal friction, so the maximum output has increased by about 5% compared to the previous model.

Very quiet, advanced air intake system: We have developed a new muffler to eliminate the noise of high-frequency sound, so the BISON gasoline engine can run without annoying noise.

Fuel efficient, a high output operation: About half the operating cost of comparable two-stroke small engines. Efficient port configuration and large bore valves maximize power output. The carburetor is equipped with an accelerator pump for quick and effortless acceleration.

Smooth performance: Precision-engineered components reduce vibration. Ball bearing supports the crankshaft for more excellent stability. Roller bearing support connecting rod.

Easy to use and maintain: Easy-to-use spark plugs, Easy to drain and refill, No oil and gas mixing.

Proven reliability: High-quality materials, fit and finish, Integrated fuel system protection
Types of small gasoline engines
BISON provides a diversified product lineup in the engine field, which can be divided into two categories: two-stroke gasoline engines and four-stroke gasoline engines.
A four-stroke engine uses four strokes of a piston. There is one piston stroke for each of the following: intake, compression, combustion, and exhaust. The intake port brings gasoline into the piston chamber. Compression compresses the gasoline. Combustion ignites the gasoline and drives the piston down. The exhaust pushes the combusted gases out of the piston cavity.
Two-stroke small gasoline engines combine intake and exhaust strokes because the engine utilizes both the top and bottom of the piston. Furthermore, the compression and combustion events are combined to produce only two strokes.
They have different sizes and displacements. We develop and produce high-quality products with the technological advantages accumulated over the years, and provide complete services including after-sales service to ensure customer satisfaction.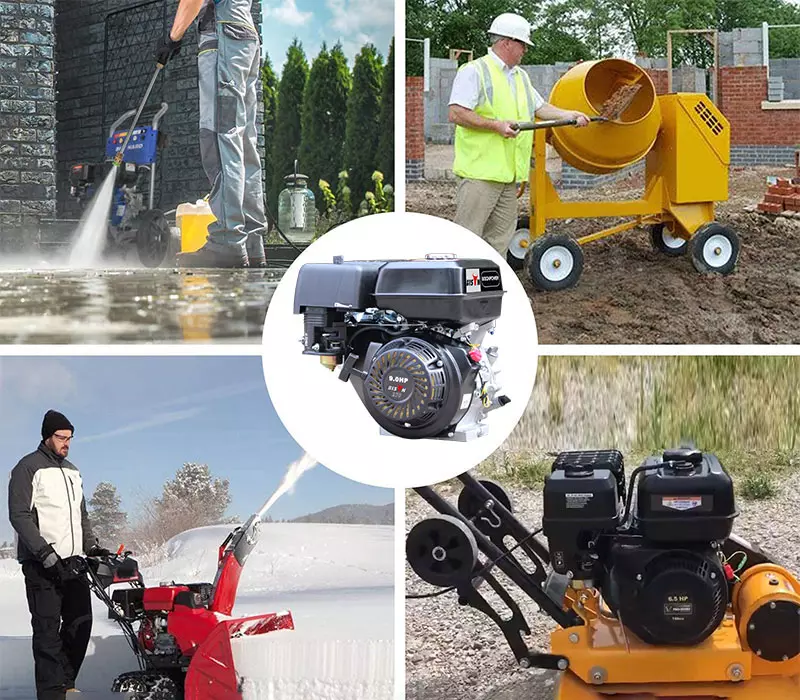 Gasoline engine parts
cylinder
The mixture of gasoline and air is injected into the cylinder, where it is ignited by a spark plug, which pushes the piston to do work.
piston
The piston is a device that slides up and down in the cylinder. They are connected to the crankshaft and convert the energy of gasoline combustion into mechanical energy.
Spark plug
The function of the spark plug is to ignite the gasoline in the cylinder.
Carburetor
The purpose of the carburetor is to atomize the fuel. This means turning gasoline into a mist, which greatly increases its surface area. This allows the gasoline to burn faster, thereby providing more impetus to the piston.
flywheel
The flywheel is the power management device of the engine. It is connected to the clutch, which in turn is connected to the transmission.
Small gasoline engine factory in China
If you need to meet specific specifications of the engine, BISON will provide you with excellent service. BISON offers premium quality small gasoline engine machinery for B2B importers and distributors worldwide. BISON is located in China and deals in producing and exporting small diesel and gasoline engines. Our products are also ISO and SGS certified.
The small gasoline engine price is based on bulk order quantity. BISON provides flexible small gasoline engine prices according to importing country and import quantity.