An inverter generator is a type of portable generator that converts the AC electricity generated by its engine into a pure sine wave AC output, which is suitable for use in sensitive electronics such as computers and home appliances.
Portable generators are often used to provide temporary power needs for households. Such generators are smaller and can be easily transported from the warehouse to an external location, where they can perform work. Usually, there are a series of power outlets on the generator, and extension cords can be plugged in to supply power to the required equipment, such as a refrigerator, freezer, or microwave oven.
Advantages of BS1000i variable frequency generator:
BS1000i inverter generators are all portable which means you can easily take them anywhere. BISON Portable Inverter Generator has functions such as circuit breaker protection, automatic electric start, low oil cut-off, running hour meter, overheat sensor and carbon monoxide alarm.

The 1,000-watt variable frequency generator produces clean energy without voltage spikes and dips, and without all the noise of a normal generator. Our four-stroke air-cooled OHV engine runs at an extremely quiet 63 decibels at one-quarter load.

BISON Portable Inverter Generators are designed to produce pure sine waves, limiting total harmonic distortion to less than 0.3% at no load and 1.2% at full load. Making it safe enough to run laptops, phones, monitors, tablets and other electronics.

Lightweight design, built-in wheels and folding handle for easy portability, ultra-efficient 2.6L fuel tank can provide more than 5.2 hours of half-load runtime.
BISON Portable inverter generators are the most commonly used type of portable generator. They are relatively easy to operate, and they are also more compact than other types of portable generators. They are also more affordable than other types of portable generators. If you do not have a lot of space in your garage or if you want something that is easy to move around, then a portable inverter generator may be the best option for you.
portable inverter generator specification

| | |
| --- | --- |
| SPECIFICATIONS | R1250is |
| Engine type | Single cylinder 4-Stroke(OHV) |
| BorexStroke | 45*38mm |
| Displacement | 60ml |
| Compression ratio | 8.2: 1 |
| Rated frequency | 50Hz |
| Rated voltage | 230V |
| Ratedpower | 1.0kw |
| Max.power | 1.1kw |
| DCoutput | 12V/5A |
| Starting system | Recoil |
| Fuel tank capacity | 2.6L |
| Full load continuum running time | 3.5h |
| 1/2 load continuum running time | 5.2h |
| Noise(7m) | 63dB |
| Dimensions(LxW*H) | 450*240*395mm |
| Net weight | 13kg |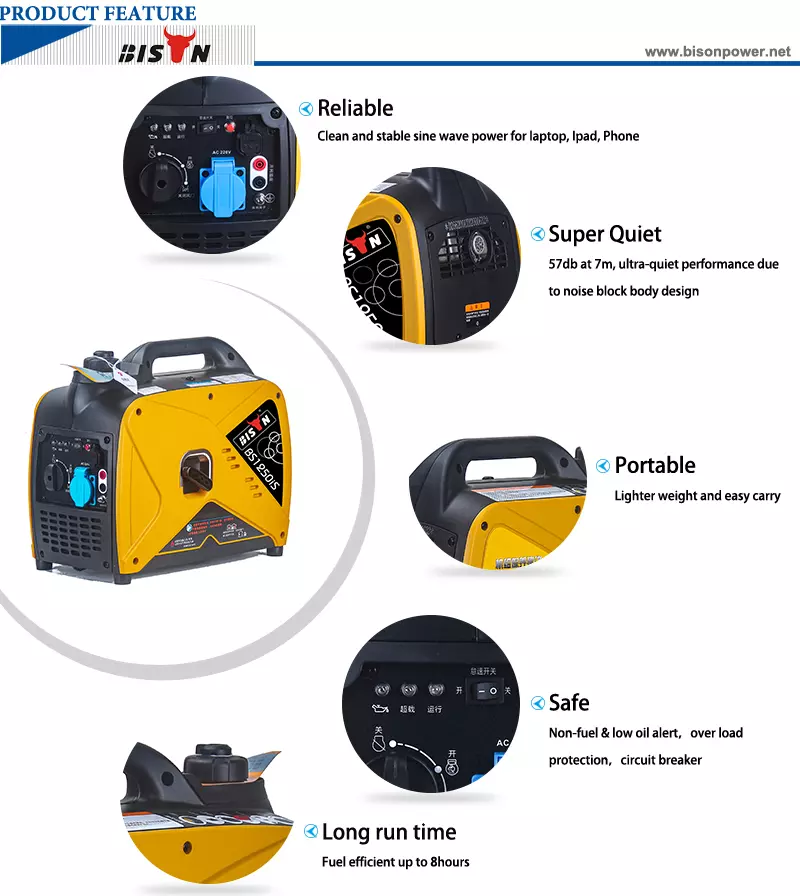 Q: Which is better, a generator or an inverter generator?
A: Although inverter generators don't produce as much power as conventional generators, they are more efficient because of the way AC generates energy. The more efficient the generator, the less fuel it uses and the smaller the fuel tank can be.
Q:

How long can you run an inverter generator continuously?
A: Depending on your choice of backup generator, most companies will recommend that you limit the generator to 500 hours at maximum capacity. This means you can use this diesel backup generator for up to 3 weeks of continuous use.