Two-cylinder engine (also called an in-line two-cylinder or a vertical or parallel two-cylinder engine) is a two-cylinder piston engine with cylinders arranged side by side and the pistons connected to a common crankshaft. If you compare it with a V-type twin-cylinder or a flat twin-cylinder, the two-cylinder engine is more compact, easier, and sometimes cheaper to manufacture.
BS-292 adopts a sturdy design to meet high-performance requirements, in addition to low maintenance costs, environmental protection, high power-to-weight ratio and other advantages. The direct injection system can also help you make better use of fuel.
BISON 2-cylinder diesel engine is ideal for applications such as generators, small machines, power tools, etc. Its size will enable you to integrate it into the smallest machine. The BS-292 can perform its work reliably regardless of whether it is in extremely low temperatures or in a hot working environment.
2 cylinder engine specification
| | |
| --- | --- |
| Engine Model | BS-292 |
| Type | Air Cooled, 2 Cylinder, 4 Stroke |
| Engine Output | 11HP |
| Bore x stroke | 88 x 72mm |
| Displacement | 870ml |
| Compression ratio | 19:1 |
| Ignition system | T.C.I |
| Starting system | Recoil start / Key start |
| Rated rotation speed | 3000 / 3600rpm |
| Fuel tank volume | 2.7L |
| Net/Gross Weight | 57 / 59kg |
| 20GP | 150set |
| 40HQ | 367set |
| Dimension(mm) | 520*560*635 |
2 cylinder diesel engine features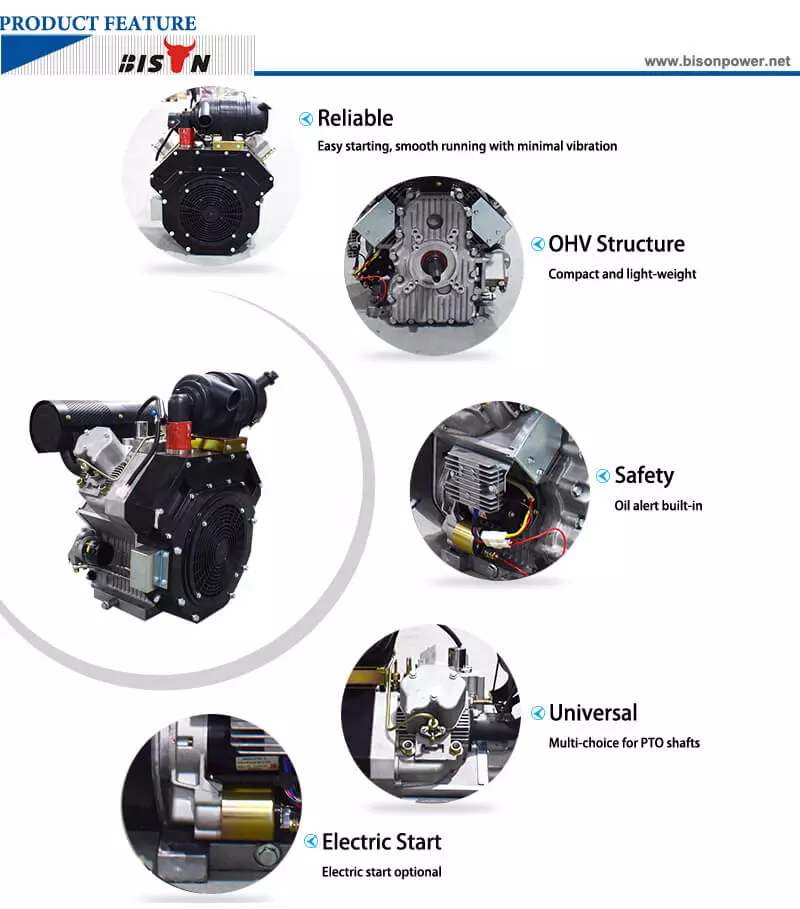 2 cylinder diesel engine real photo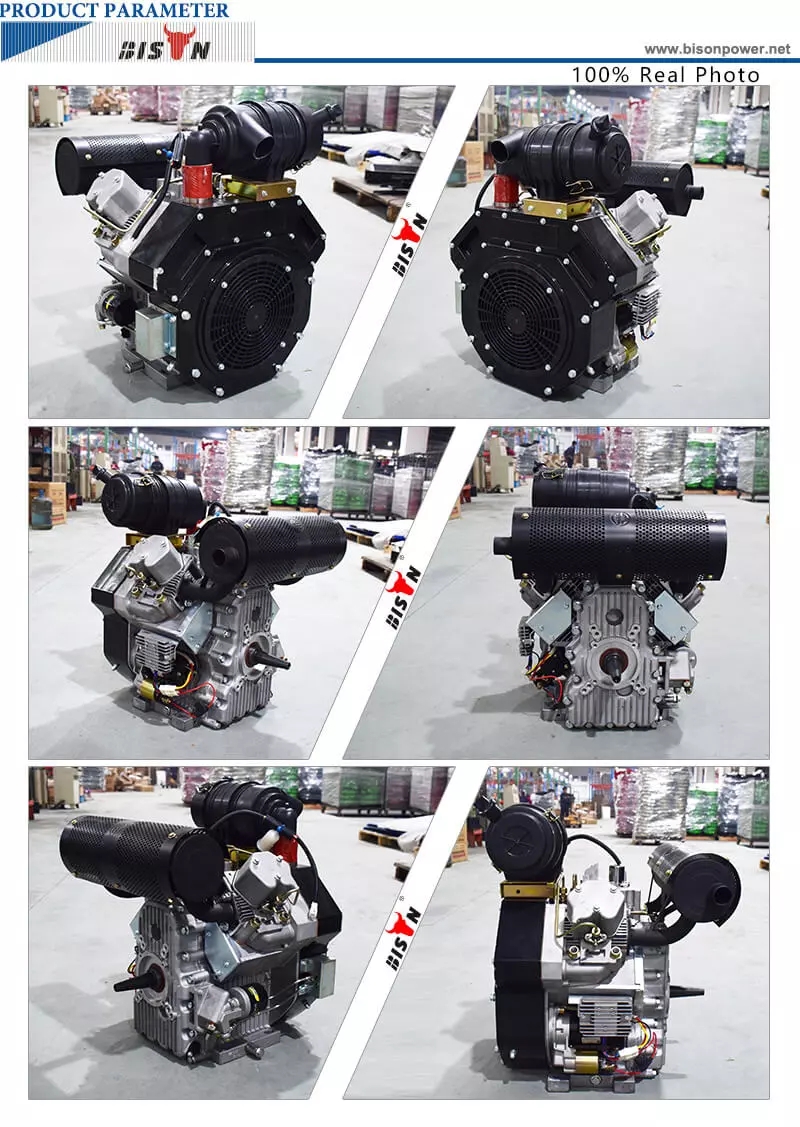 Single-cylinder diesel engine VS two-cylinder diesel engine
Single-cylinder diesel engines do not have the characteristics of fuel economy, stability, and large torque. The single-cylinder diesel engine has a simple structure and a small number of parts. There is no need to adjust the balance of the left and right cylinders, and there are few failure points. At the same time, the simple structure determines that the manufacturing and assembly process of the single-cylinder diesel engine is simple and the technical difficulty is low. Therefore, the manufacturing cost of the single-cylinder diesel engine is also low, and the maintenance cost is also low.
In contrast, the structure of a two-cylinder diesel engine is much more complicated, and the number of parts has doubled. In addition, the structure of special components such as the cylinder head, crankshaft, and exhaust system is also more complicated than that of a single-cylinder diesel engine. This increases the process difficulty and manufacturing cost of the dual-cylinder diesel engine. The increase of cylinders will also lead to an increase in the number of failure points of the diesel engine, plus the need to adjust the balance of the left and right cylinders, so its use and maintenance are more complicated.