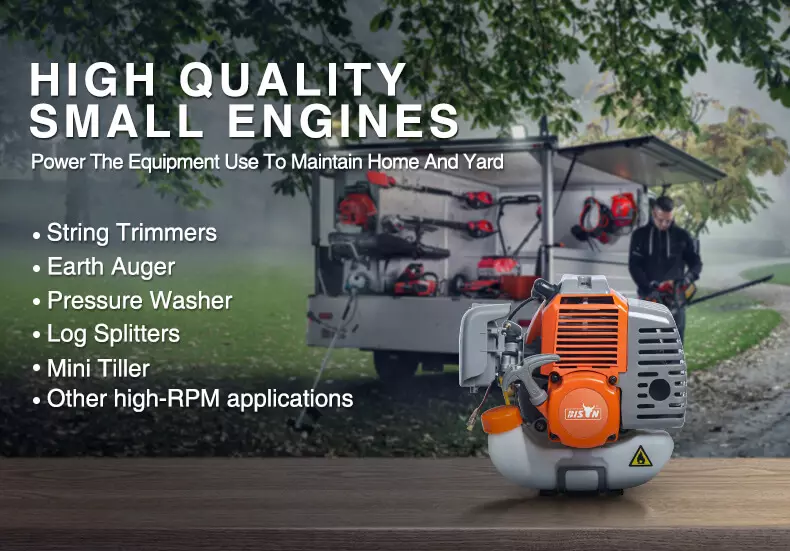 As a small gasoline engine manufacturer, we pride ourselves on building reliable, efficient engines. 1E40F is air-cooled and designed to deliver reliable performance for all your garden equipment needs.
It has a lightweight design that makes it a breeze to handle. But don't be fooled by its size - this engine packs a lot of power. This garden tools engine delivers a maximum power of 1.25 kW at 6500 rpm, making it ideal for use with a variety of garden tools, including trimmers, brush cutters, and more.
BISON understand what you want - an engine that's low maintenance and hassle-free. The 1E40F is built to last, featuring solid construction and durable materials. Plus, its easy-start system ensures your customers won't waste valuable time trying to get their garden tools up and running.
The innovative design of the 1E40F minimizes fuel consumption. This feature alone sets us apart from the competition and makes our garden tools engine the ideal choice for environmentally conscious gardeners.
So partner with us and provide your customers with the ultimate garden tool engine. Our rigorous quality control standards ensure that every engine we produce meets our exacting specifications for performance and reliability.
Invest in our garden tool engine today and get the performance and power you require to handle even the most difficult landscaping projects with ease. 1E40F – the perfect combination of power, efficiency and ease of use.
garden tools engine 1E40F specification
| | |
| --- | --- |
| Product Name | 1E40F-5A Gasoline Engine |
| Feature | Two-Stroke, Single-Cylinder, Air-cooled |
| Bore*stoke(mm) | 40*34 |
| Displacement | 42.7cc |
| Max.power(kw/rpm) | 1.25/6500 |
| Start model | Manual Recoil start |
| Dimension(mm) | 225*260*215 |
| Fuel type(L) | Mixed fuel 25:1 |
garden tools engine 1E40F features