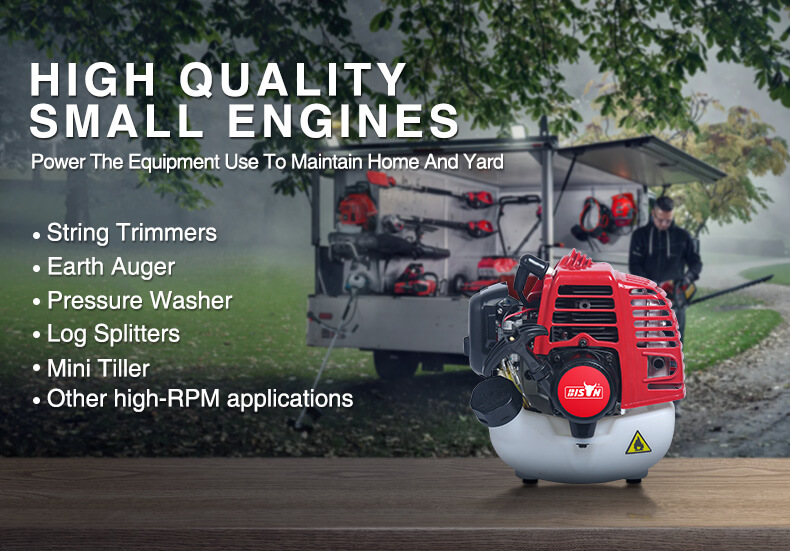 Introducing our latest innovation in commercial lawn and garden engines: the G26. Superior performance. Unrivalled efficiency. Ready to revolutionize the way you approach landscaping projects?
As a small gasoline engine manufacturer, we understand your needs. That's why we crafted the G26 with care. Now, we offer you the opportunity to experience it for yourself.
With a manual recoil start, our commercial lawn and garden engines are simple to start and use. With a 0.75L fuel capacity, you can operate continuously without needing to pause and recharge. These engines measure 225mm x 260mm x 215mm.
Our G26 delivers exceptional fuel efficiency - a feature you and your customers will love. Say goodbye to frequent refuelling and hello to a more productive day out.
But wait, there's more! The advanced engineering of the G26 delivers unrivalled torque, making it the first choice for tackling the toughest jobs. Our commercial lawn and garden engines have a cylinder diameter of 40mm and a rated power output of 0.81kW at 7000 rpm. Mowing, pruning and edging? no problem. The G26 can handle it all.
We know reliability is key. Every commercial lawn and garden engine we create reflects our dedication to quality and innovation. To ensure that every engine fulfils our exacting requirements, we only use the best components and implement strict quality control procedures. Built for durability, this engine will power your equipment for many years.
In conclusion, the G26 is the ultimate engine for commercial lawn and garden projects. With its fuel efficiency, power and reliability, you will be excited about BISON engines.
specification
| | |
| --- | --- |
| Product Name | G26 Gasoline Engine |
| Feature | 4-Stroke, Single-Cylinder, Air-cooled |
| Diameter Of Cylinder(mm) | 40 |
| Displacement | 25.6cc |
| Rated Power Output(kw/r/min) | 0.81/7000 |
| Start model | Manual Recoil start |
| Fuel capacity (L) | 0.75L |
| Dimension(mm) | 225*260*215 |
features