The usual fuel sources for generators include propane, natural gas, gasoline and diesel. Among these, the cheapest is diesel. This is mainly because customers can get more power while using less fuel. Diesel fuel is easily available and cheap, and diesel fuel is less flammable than other fuels. Compared with other generator types, diesel powered generators are safer.
A portable, effective power source for household, commercial, and industrial uses is the 6kw diesel-powered generator. This generator's maximum output is 6 KW, the engine on this generator is extremely effective and long-lasting since it is built entirely of copper. Its rated rotation speed ranges from 3000 to 3600 revolutions per minute (r/min), and it has a single phase with a power factor of 1.
The generator's single-cylinder diesel compression ignition engines BS192FB type engine has a 92-millimeter diameter and a 75-millimeter stroke. It has a direct combustion system and it runs on diesel fuels. The engine begins with an electric system and has a displacement of 498 cubic centimetres. The fuel capacity of this generator is 16 litres and the lubricating oil volume of 1.65 litres.
It is made in a state-of-the-art facility using premium materials and components. To make sure the generator complies with the appropriate standards and requirements, it is put through rigorous quality control processes and performance testing.
It is a dependable and cost-effective power option thanks to its powerful engine, reliable starting mechanism, and high-quality alternator. This generator is built in a cutting-edge facility utilising cutting-edge production methods, and it undergoes stringent quality control checks to guarantee its performance and longevity.
BISON 6kw diesel powered generator is a combination of a diesel engine and a generator (usually an alternator) to generate electrical energy. BS8500DSE 6kw diesel generator can be used in remote areas where there is no power supply, or as an emergency power supply in the event of a grid failure, and can also be used to meet more complex power applications.
Compared to gasoline generators, diesel generators require less maintenance.
Diesel generator maintenance requirements:

When you are not using a diesel generator, please pay attention to the remaining diesel in the fuel tank. Diesel fuel will degrade, which may cause blockage of fuel lines and filters.

Pay attention to the battery power; if your generator is started electrically, please make sure that the battery is strong and durable to avoid malfunction of the generator. Of course, most electric start diesel generators will also be equipped with recoil starters.

It is recommended that you change the oil after 100 hours of operation. The frequency of oil change depends on the manufacturer, the frequency of use of the generator and your working environment.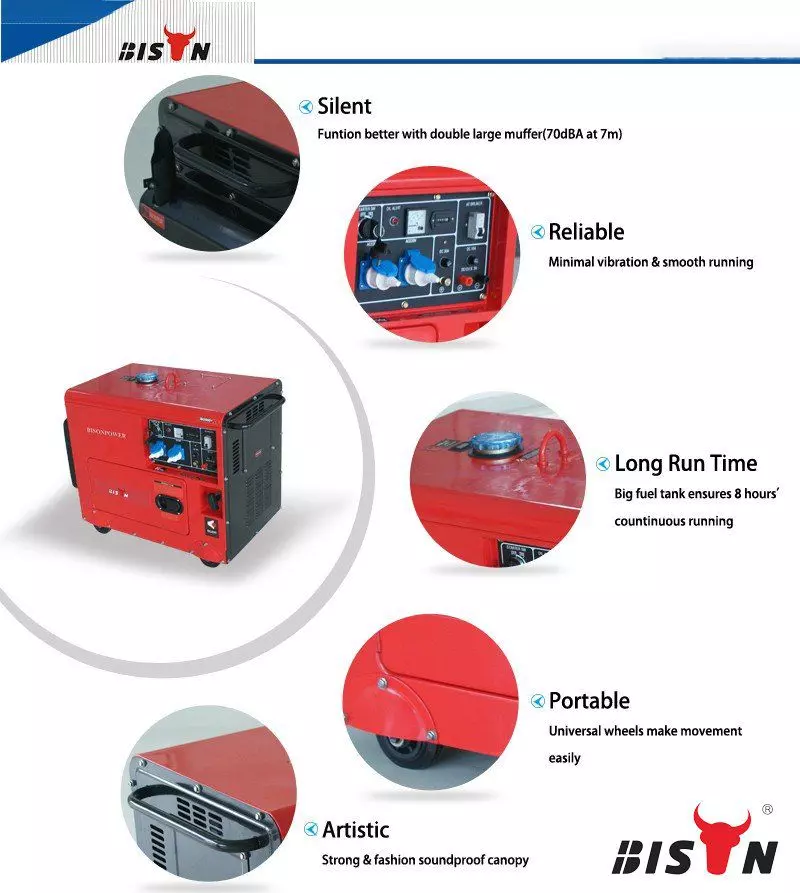 BISON diesel powered generator specification
| | |
| --- | --- |
| Model | BS8500DSE |
| Rated frequency (HZ) | 50/60 |
| Rated Output (KW) | 6 |
| Max. Output (KW) | 6.5 |
| Copper of alternator | 100% |
| Rated voltage (V) | According to country |
| DC output (V) | 12/8.3A |
| Rated rotation speed (r/min) | 3000/3600 |
| Phase | Single Phase |
| Power factor (cos?) | 1 |
| Engine model | BS192FB |
| Engine type | single-cylinder |
| Bore×Stroke(mm) | 92*75 |
| Combustion System | Direct Injection |
| Fuel | Diesel |
| Displacement | 498cc |
| Starting system | Electric |
| Lubrication Oil Volume (L) | 1.65 |
| Fuel tank capacity (L) | 16 |
| Fuel consumption (g/KW.h) | ≤280 |
| Continuous running time | 8.5/7.8 |
| Cooling system | Air-cooled |
| Noise level (7m, dB) | 68-72 |
| Overall dimensions, L*W*H, mm | 935*525*680 |
| Net weight / Gross weight (kg) | 175 |
| Loading qty (20GP) | 72(20GP) |
| Warranty(Year) | 1 |
6kw diesel-powered generator real photo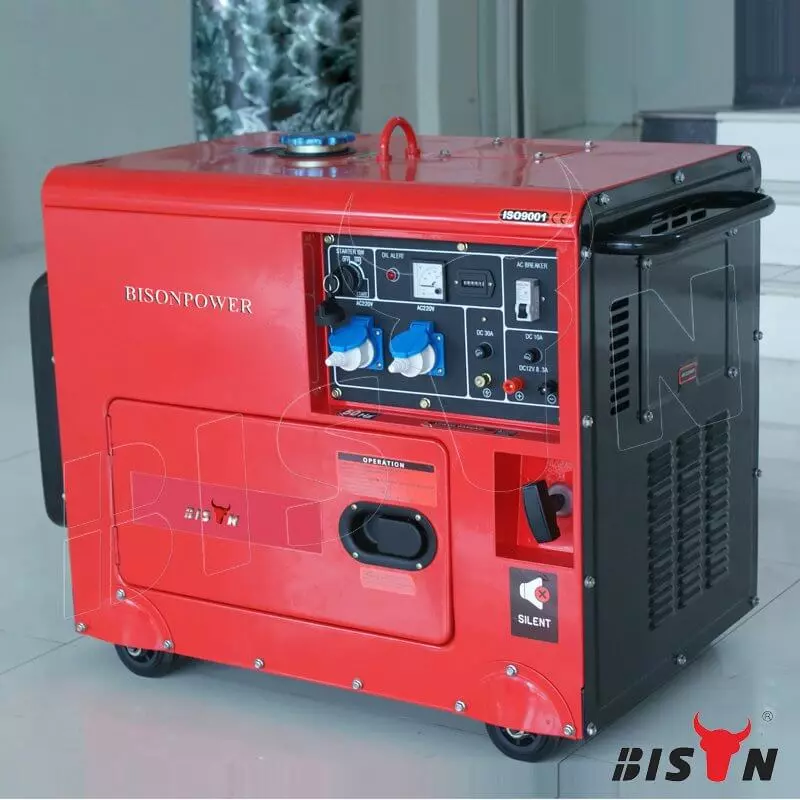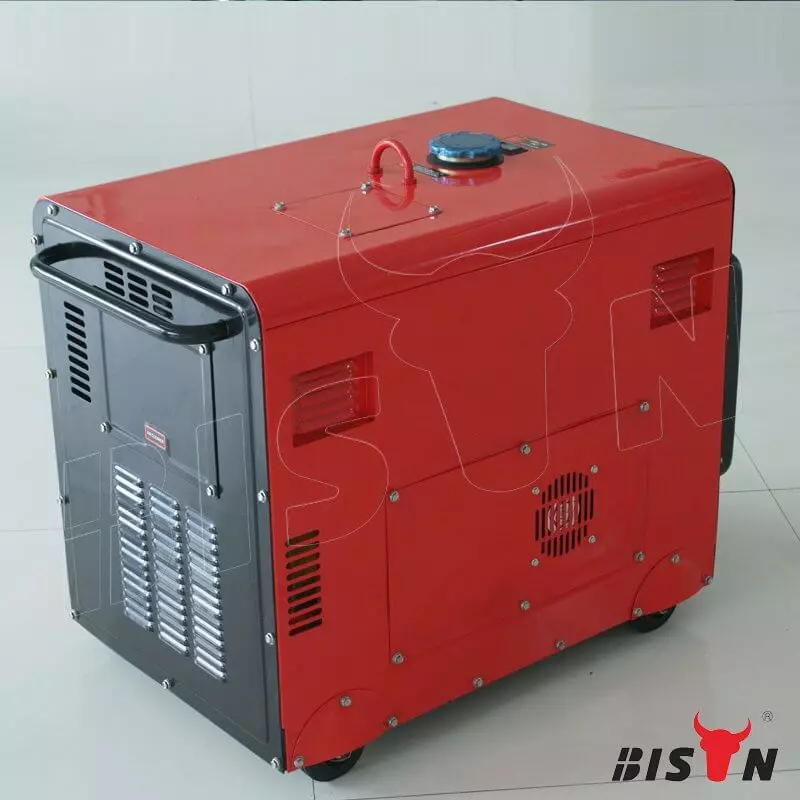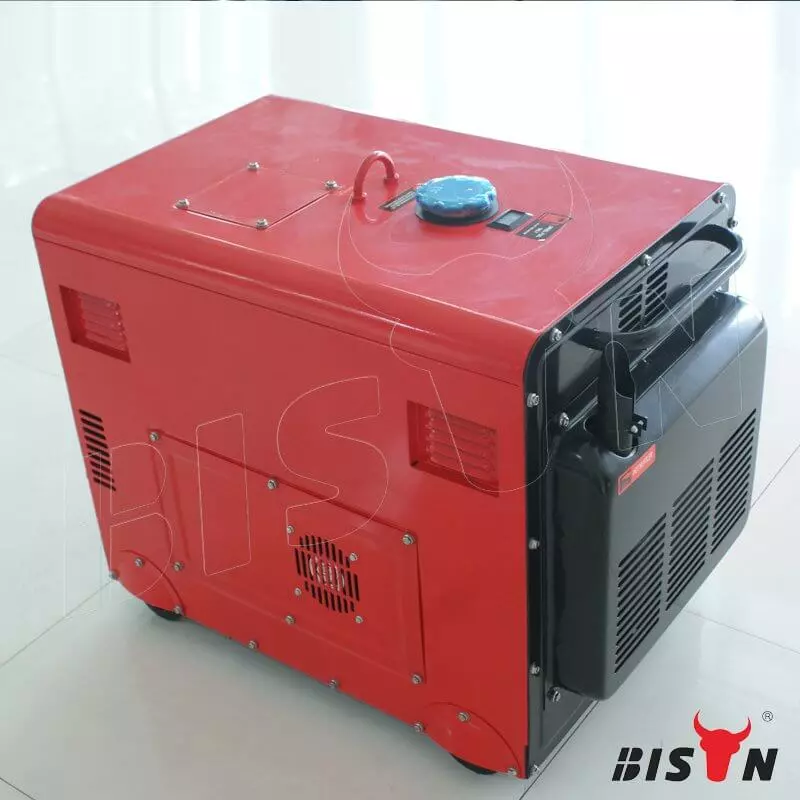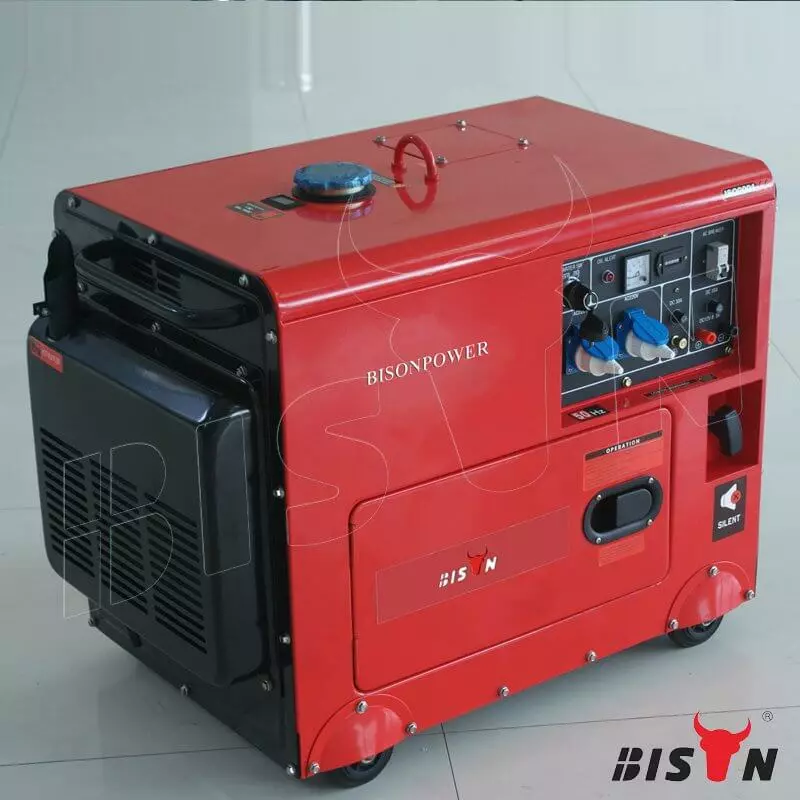 What are the advantages of diesel-powered generators?
Modern diesel engines have overcome the disadvantages of earlier models of higher noise and maintenance costs. They are now quiet and require less maintenance than gas engines of similar size. The main pros of diesel generators are relatively low maintenance.
Are diesel generators better than gas?
The key is to find a fuel that is cost-effective as well as energy-efficient. In this regard, diesel generators score high. While they are a considerably more expensive alternative than natural gas generators, since the price of diesel is more than that of gas, diesel has a higher energy density.