Let BISON introduce you to our latest innovation: the 18hp backup home generator. This 18hp standby residential generator is a robust and reliable generator that is manufactured in our state-of-the-art factory using only the highest quality materials and components, ensuring it provides you with an uninterrupted power supply whenever you need it.
Compact, yet powerful. Its 18hp engine at its heart is a testament to engineering excellence and provides steady and reliable energy for your home. Its 439cc displacement and 8.0:1 compression ratio make it perfect for use in a home context.
You won't even notice the noise. Thanks to its cutting-edge technology, this generator operates at a whisper-quiet level - giving you peace of mind.
maintain? the smallest. This BISON generator is built to last, with top-notch components and an industry-leading warranty. Rest easy knowing you've made a sound investment in the safety and security of your home.
The generator comes equipped with a fuel tank capacity of 25L, ensuring it can run for extended periods without needing refuelling.
For those seeking a dependable and effective power source, it is the ideal purchase. It is the ideal option for all of your household power needs because of its effective operation, durable fuel tank, and small design. BISON are very proud to introduce it to you. See for yourself the difference and update your business with this exceptional product.
18hp standby residential generator specification
| | |
| --- | --- |
| Model | BS9500 |
| Engine Model | BS192FE |
| Engine Output | 18HP |
| Bore x stroke | 92*66mm |
| Displacement | 439cc |
| Compression ratio | 8.0:1 |
| Rated rotation speed | 3000 / 3600rpm |
| Rated frequency | 50 / 60hz |
| Rated voltage | 220 / 240v |
| Generator | Rated output power |
| Max output power | 8.5kw |
| Starting system | Recoil start(Manual) / Key start(Electric) |
| Fuel tank capacity | 25L |
| Gross weight | 90kg |
| Overall dimension | 685*550*570mm |
18hp standby residential generator features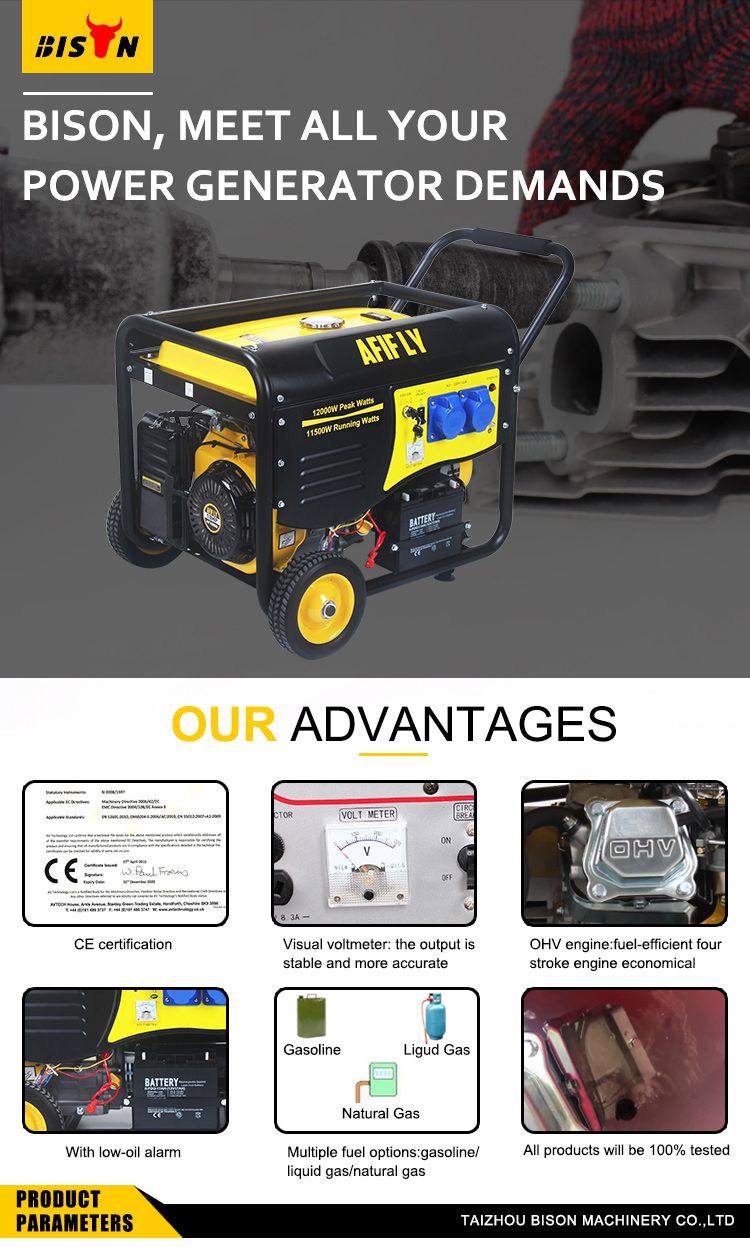 18hp standby residential generator details