As a fellow mini power tiller manufacturer, we know the importance of efficiency and ease of use. That's where our hand-held gasoline tiller shines.
The BS2Q-65, BS2QD-38, BS2Q, and BS2QB models of hand-held gasoline tiller are among the available variations. The fuel tank capacity varies from 0.9L to 1.3L depending on the model, with the 2-stroke engines in the initial three models and the four-stroke engines in the fourth model.
This hand-held tiller can handle challenging soil conditions and deliver the best results with a power output of 2.2kw and a speed of 3600r/min for the BS2QB model. The reduction ratio ranges from 1:2 to 1:59 for greater efficiency, and the automatic centrifugal clutch guarantees easy and smooth operation.
Except for the BS2Q model, which doesn't need power oil, the gearbox oil has a range of 0.2 to 0.3L and a 0.25L capacity. Depending on the model, the hand-held tiller also has a working width that ranges from 300mm to 650mm and an operational hour productivity of 0.04-0.06 h/m.
In conclusion, our hand-held gasoline tiller is the ideal choice for dealers seeking a high-quality, compact, and user-friendly tool. Experience the difference that the deliberately emphasized feature brings to the world of mini power tillers. Trust us, you won't be disappointed.
hand-held gasoline tiller specification
| | | | | |
| --- | --- | --- | --- | --- |
| Tiller Type | BS2Q-65 | BS2QD-38 | BS2Q | BS2QB |
| Engine | 144FA single cylinder gasoline air cooled gasoline engine | 144FA single cylinder gasoline air cooled gasoline engine | 1E48F single cylinder gasoline air cooled gasoline engine | NP130 single cylinder air-cooled gasoline engine |
| Stroke | 2-stroke | 2-stroke | 2-stroke | 4-stroke |
| Start Method | hand pull | hand pull | hand pull | hand pull |
| Power/speed | 2.2kw/6500r/min | 2.2kw/6500r/min | 2.2kw/6500r/min | 2.2kw/3600r/min |
| Fuel Oil | 90# gasoline and above pure gasoline | 90# gasoline and above pure gasoline | 93# gasoline and 2-stroke engine oil mixture,fuel-to-run ratio is 25:1 | 90# gasoline and above pure gasoline |
| Fuel Tank Capacity(L) | 1.1 | 1.1 | 1.3 | 0.9 |
| Power Oil Capacity(L) | 0.25 | 0.25 | / | 0.4 |
| Clutch Way | Automatic centrifugal | Automatic centrifugal | Automatic centrifugal | Automatic centrifugal |
| Reduction Ratio | 1:59 | 1:29 | 1:29 | 1:29 |
| Gearbox Oil Capacity(L) | 0.3 | 0.2 | 0.2 | 0.2 |
| Working Width(mm) | 650 | 380 | 300-650 | 300-650 |
| Operating Hour Productivity(h/m) | 0.04-0.06 | 0.04-0.06 | 0.04-0.06 | 0.04-0.06 |
hand-held gasoline tiller features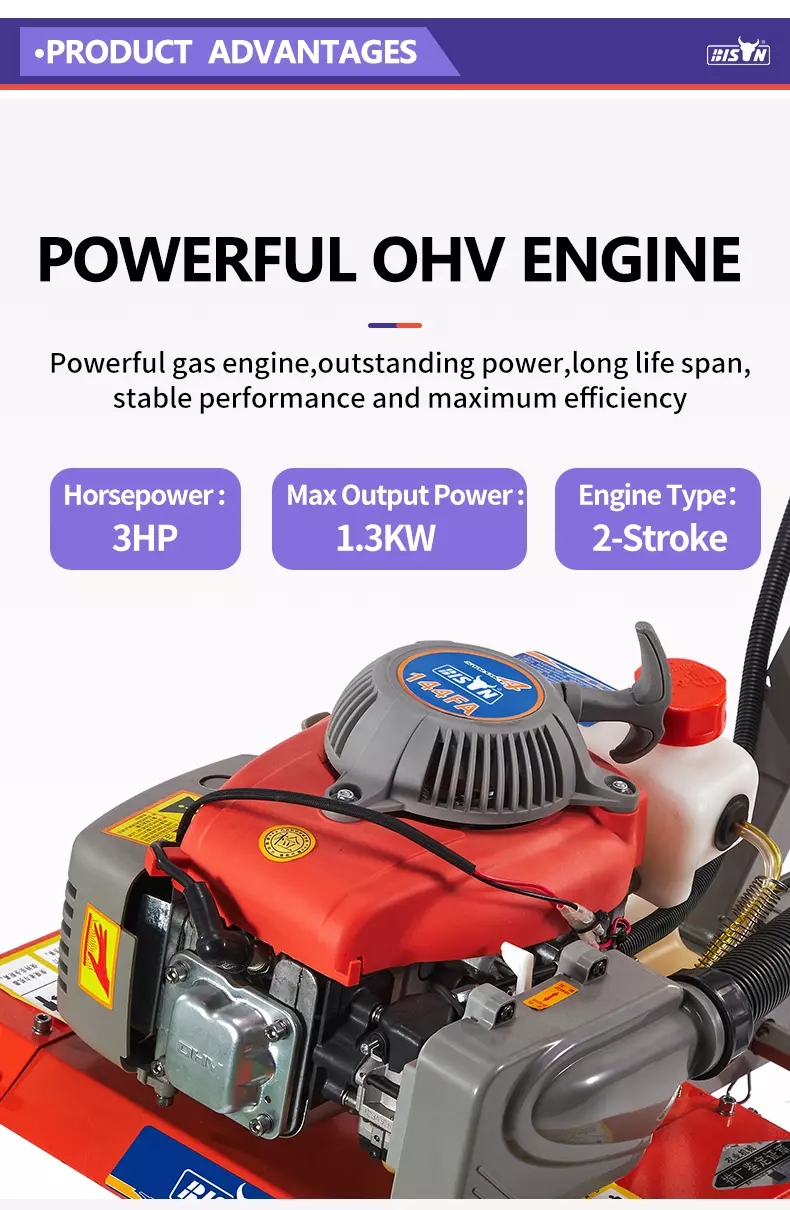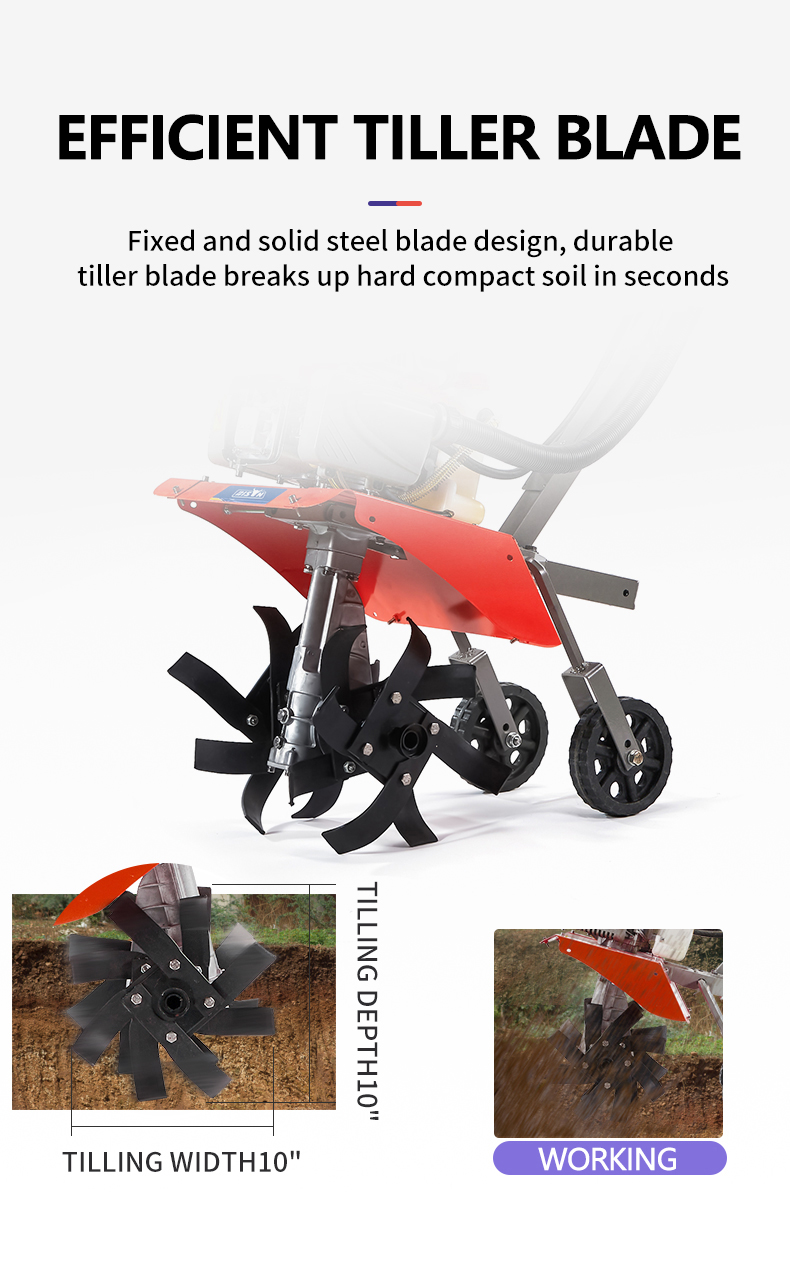 hand-held gasoline tiller spare parts