As one of the China centrifugal pump manufacturers, the rich experience accumulated over the years enables BISON to design a wide range of different pumps. The different sizes of pumps we provide are designed to meet the requirements of each application in the chemical, food, cosmetic, and pharmaceutical industries...
The Model BS20H gasoline centrifugal pump is a high-performance machine that is built to handle tough jobs with ease. With a pump lift of 50 meters and a suction height of 7 meters, this pump can handle a large volume of liquid in a short amount of time. The 42 cubic meters per hour flux ensures that this pump can handle high-volume applications with ease.
One of the key features of the Model BS20H is its single impeller design, which provides excellent performance and reliability. With a displacement of 210 cubic centimetres and a rated power of 5.1 kilowatts, this engine provides plenty of power to tackle even the toughest pumping jobs.
The BS170F engine is designed with a T.C.I ignition system, which ensures reliable and consistent starts every time.
This pump is also designed for ease of use and mobility. With a gross weight of just 28 kilograms, this pump is easy to move and transport from one location to another.
The suction ports on both sides of the impeller provide axial balance for the impeller, thereby providing a full range of pump performance in a linear relationship with the engine throttle.
The motor components are installed in a corrosion-resistant tubular steel frame. Ceramic and carbon seals have excellent durability. A convenient 3.6-litre fuel tank means it can run for several hours in a single fill (depending on load).
BISON provides a complete range of rugged and reliable centrifugal water pumps, which can meet almost any flow, pressure, material and cost requirements. These pumps are fully usable. The impellers are FDA-compliant, corrosion-resistant, and capable of continuous operation. Gasoline centrifugal pumps meet the challenge with excellent design, precise engineering and high-quality components. These centrifugal pumps provide many functions for typical applications such as agricultural spraying equipment and fluid transport.
Gasoline centrifugal pump specification
| | |
| --- | --- |
| Model | BS20H |
| Inlet/Outlet(mm) | 50 (2-inch) |
| Pump Lift (m) | 50 |
| Suction Height (m) | 7 |
| Flux (m3/h) | 42 |
| Impeller | Single |
| Engine Model | BS170F |
| Engine Type | Single Cylinder, Air Cooled, 4-Stroke |
| Displacement(cc) | 210 |
| Rated power(kw) | 5.1 |
| Max power(kw) | 5.6 |
| Rated speed(RPM) | 3000/3600 |
| Bore x Stroke(mm) | 70*56 |
| Compression Ratio | 8.5 |
| Ignition System | T.C.I |
| Fuel Tank Capacity(L) | 3.6 |
| Dimensions(mm) | 488*390*408 |
| G.W(KG) | 28 |
| 20FT Quantity Set | 385 |
| 40'HQ Quantity Set | 900 |
Product Packaging and Delivery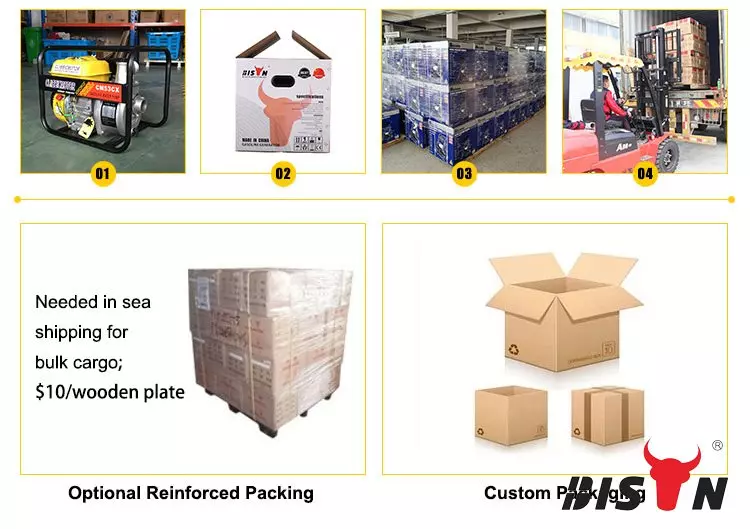 Gasoline centrifugal pump details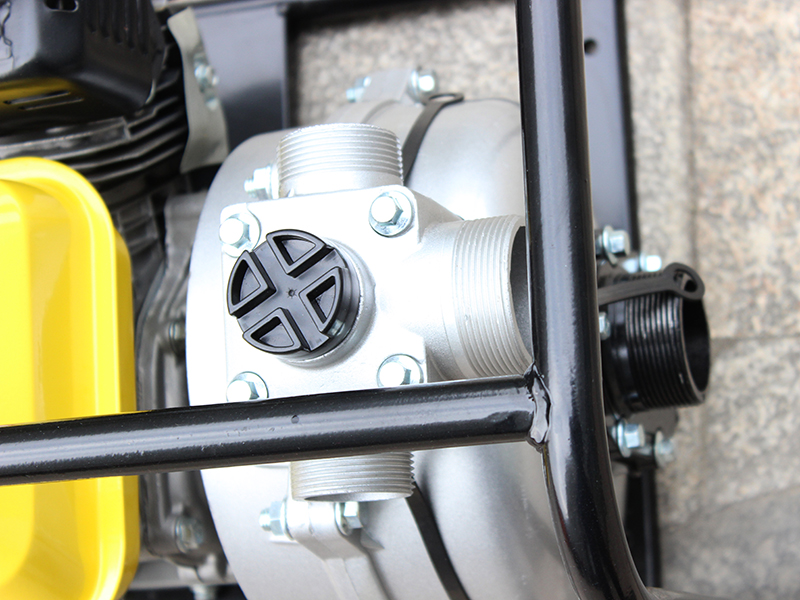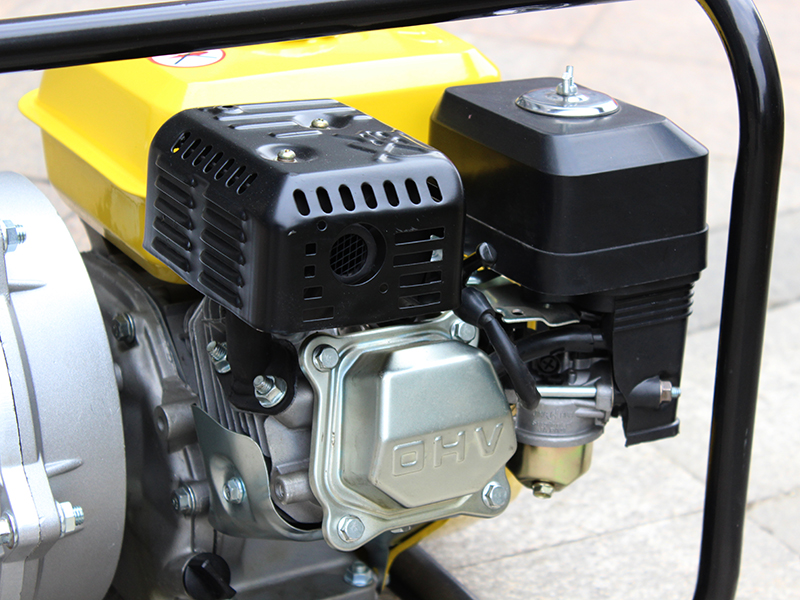 How does a centrifugal pump work?
The centrifugal pump water relies on the rotating impeller to transfer mechanical energy to the liquid. Due to the action of the centrifugal pump, the speed and pressure of the liquid flow from the impeller inlet to the outlet. At this time, a vacuum or low pressure is formed at the inlet of the impeller due to the discharge of liquid, and the external liquid is pressed into the impeller under the action of atmospheric pressure. As a result, the rotating impeller continuously sucks and discharges liquid.
What is a centrifugal pump used for?
They are commonly used in commercial and industrial applications, such as transporting water, increasing water pressure, etc. Centrifugal pumps are suitable for almost all applications involving low-viscosity fluids.
What type of gasoline water pump is most suitable for clean water?
Centrifugal pumps will be your best choice because they are equipped with narrow impeller blades. Clean water is also the only type of water that gasoline centrifugal pumps can handle.