Let's say you have a BISON 5kw gasoline generator during a power outage. This generator can keep your house lit and also help you feel warm in the winter or cool in the summer. In addition, a 5 kw gasoline generator keeps your computer and phone working and charging.
The advantage of a portable gasoline generator is that it is easy to carry and can power multiple electrical appliances at the same time. They are also very easy to use as they do not require any special maintenance or repairs. Another advantage of using a gasoline generator is that it can be used in different places, such as at home or in the field. You can also move it from one place to another effortlessly. You can take it with you on camping trips or in emergencies.
5kw Gasoline Generator is an ideal solution for those who need to have a power supply in remote places. If you have a house on the countryside or if you are camping and need to have some power, this generator is perfect for you. It is also good for people who live in apartments because it doesn't make noise and it doesn't pollute the air. With this generator, you can run any electrical device that consumes less than 5000 watts of power.
The most obvious advantage of using a gas generator is that it runs on fuel. This means that you don't have to worry about having a power source or recharging the battery. It also means that you don't have to spend money on electricity bills or suffer from the high cost of charging an electric car at home. Gasoline is readily available and easy to find at any local hardware store or gas station, so you won't have trouble getting it when you need it.
BISON Gasoline generators also have a high fuel efficiency rate so you can get more power from less fuel. Moreover, if you have a large enough tank, you can even run your batteries with it for days without refilling them and still have enough fuel left over for other important things like starting your car!
Noticed:
You can use a gasoline generator anywhere on or off your property—but never in an enclosed space, like your room. Gasoline generators can quickly produce deadly levels of carbon monoxide. Run a 5kw gasoline generator at least 20 feet away from your home, and direct the exhaust away from your home or any other structure, including the neighbors' home.
5kw gasoline generator specification
| | |
| --- | --- |
| Model | BS6500 |
| Max.A.C.output | 5.5kw |
| Rated.A.C.output | 5.0kw |
| Engine Model | BS188F |
| Model | 13.0HP |
| Engine Type | Single cylinder, 4-stroke, air-cooled |
| Igniting System | TCI |
| Starting System | Recoil |
| Displacement | 390cc |
| Fuel tank capacity | 25L |
| Continuous operating time | 13h |
| A.C.frequency | 50/60Hz |
| Rated Voltage | 110/220V |
| Packing Dimension(mm) | 710*530*550 |
| Net weight | 82kg |
| 20FT Quantity | 136 Sets |
| 40'HQ Quantity | 292 Sets |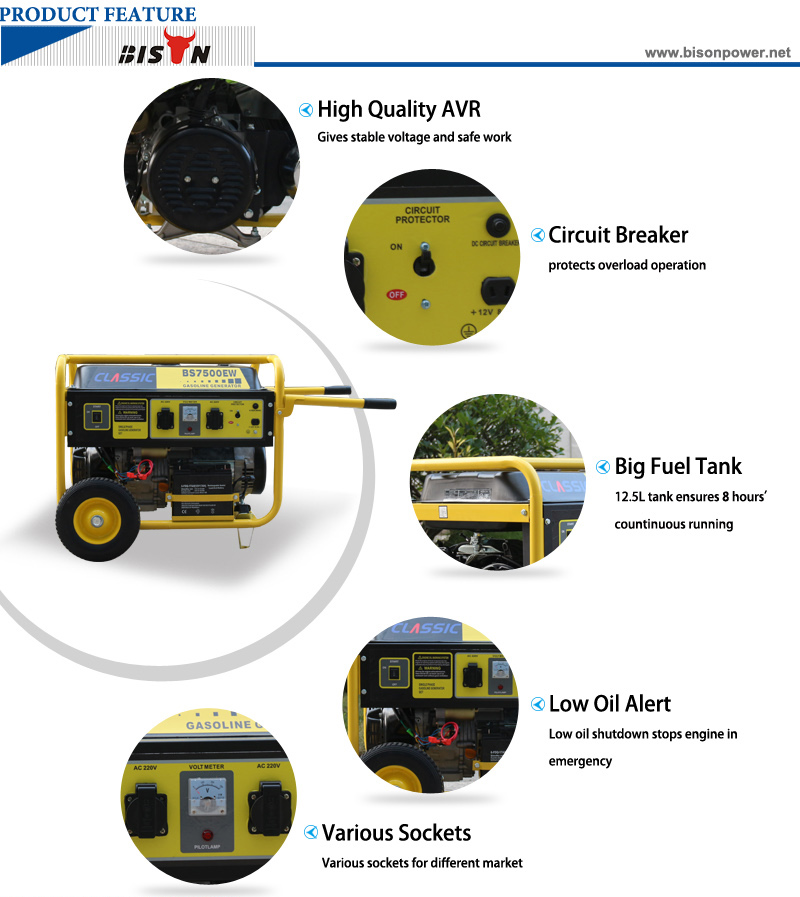 5kw gasoline generator real photo
Q:

What is a petrol generator used for?

A: Application of Gasoline Generator

They can be used as a backup power source to ensure the smooth operation of home/business equipment. They can be used to power machines and instruments in workplaces where power from the mains is not possible.
Q:

Can I run my generator overnight?

A: Well, my final answer is yes, you can. However, you must take some precautions to ensure that no serious accidents occur. These are the precautions I take when running my generator overnight: Keep the generator outside to prevent carbon monoxide poisoning. February 4, 2022