Let us introduce you to a game changer in the generator industry: 950 small gasoline generator developed by BISON. Sleek, compact and efficient, this little beast will impress.
This 950w small petrol generator is an ideal companion for camping trips, tailgating parties, or emergency power backup. With a rated output power of 0.65 kw and a maximum output power of 0.75 kw. BS950 small generator is perfect for powering small appliances, lights, and electronics. With its fuel-efficient design, it ensures optimum power output while minimizing fuel consumption.
Manufactured by our trusted factory, this BISON generator is built to last with high-quality materials and advanced engineering. It has a mass weight of only 19kg, making it easy to transport and store. The overall dimensions of the generator are 420 x 340 x 325mm, allowing it to fit in tight spaces.
For your convenience, it has both electric key start and recoil start mechanisms. With a 4L gasoline tank, the device can be used continuously for several hours without needing to refuel. Besides, this little wonder is low maintenance, allowing you to focus on your work. Quiet operation ensures a pleasant experience for you and those around you.
For individuals on the go who require dependable and portable electricity, this generator is the ideal option. Both rookie and experienced users can use it because it is built for simple operation and maintenance.
All in all, the 950 small petrol generator is an outstanding addition to the market. This is truly an asset for those in need of portable power.
950 small petrol generator specification
| | |
| --- | --- |
| model | BS950 |
| Bore x stroke | 45*38mm |
| Displacement | 63cc |
| Compression ratio | 7.3 |
| Rated rotation speed | 3000 / 3600rpm |
| Rated frequency | 50 / 60hz |
| Rated voltage | 220 / 240v |
| Rated output power | 0.65kw |
| Max output power | 0.75kw |
| Starting system | Recoil start(Manual) / Key start(Electric) |
| Fuel tank capacity | 4L |
| Mass weight | 19kg |
| Overall dimension | 420 x 340 x 325mm |
| 20FT | 735 |
| 40HQ | 1720 |
950 small petrol generator features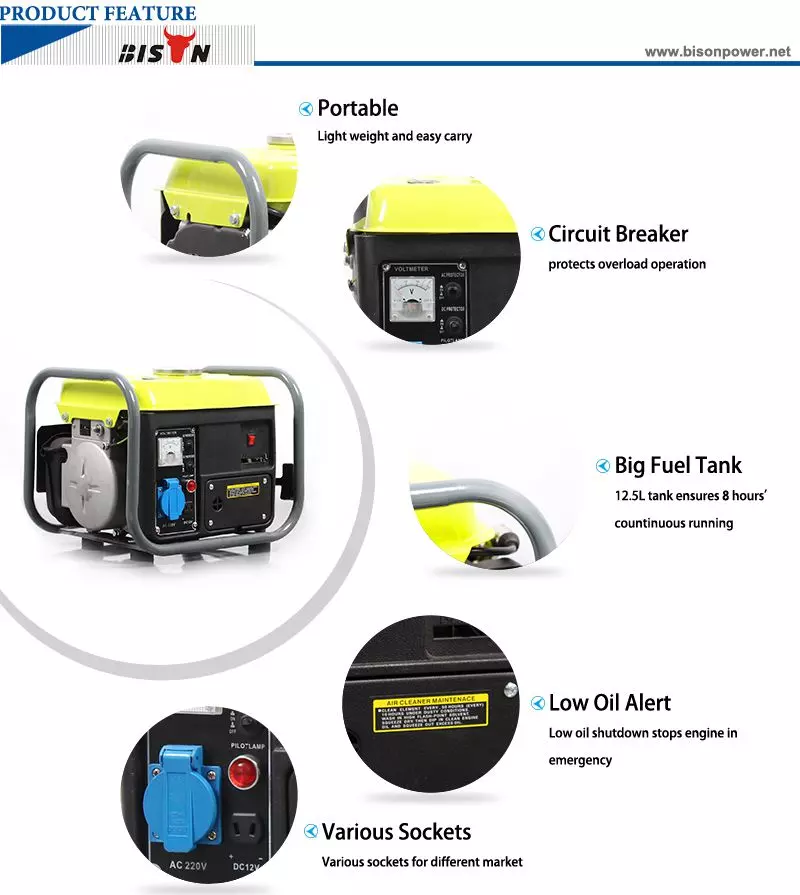 details