If you rely on a pressure washer to make a living, you will need a commercial grade. Commercial gasoline pressure washers are designed for frequent use. They have better engines, better high-pressure pumps and components. Reduce the risk of any failure to help you work better.
It not surprising that the BS250A gasoline pressure washer has won easily in electrical equipment because it an expensive and well-made device. Its high pressure and large capacity output make cleaning faster and more thorough. What makes this possible is the continuously running motor, which always turns, not just when you pull the spray bar trigger. This improves the trigger response and reduces the charge as the pump remains at a constant pressure.
In addition, the machine has pressure and flow sensor so that the pump output can be adjusted to fit the nozzle you insert into the boom. All of which adds up to better washing performance.
BS250A pump type is a direct drive pump, which means lower procurement costs, takes up less space, and is also more efficient. If you want a belt-driven pump, please contact us to order.
Commercial gasoline pressure washer advantage:
No power cord limits the working range

Suitable for cleaning large areas

Suitable for removing stubborn stains

Wide range of uses, suitable for various applications
Commercial gasoline pressure washer disadvantages:
commercial gasoline pressure washer details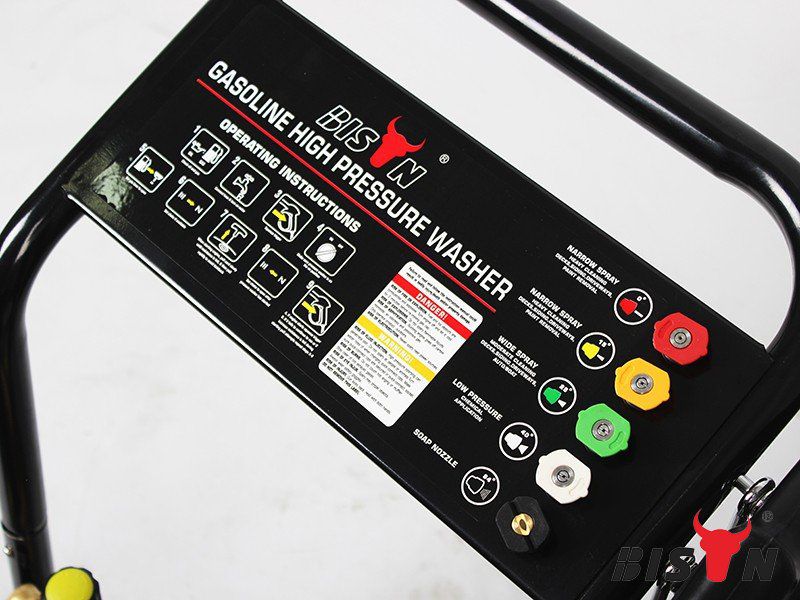 commercial gasoline pressure washer specification
| | |
| --- | --- |
| Model | BS250A |
| Continuous/Max Bar | 250/300 |
| LPM | 15 |
| Power | 15HP |
| Displacement | 420cc |
| RPM | 3600 |
| Type | BS-PG250 |
| Lance | G01 |
| Nozzle | 5 nozzles |
| Hose | H04 Length: 10M |
| Quick connecter | 2.0M |
| Gross Weight | 60kg |
| Dimens | 760*540*535mm |
| 20GP(Set) | 136 |
| 40HQ(Set) | 315 |
Can I use my commercial pressure washer indoors?
It depends on the type of pressure washer. For this commercial gasoline pressure washer, the answer is no. The exhaust gas from diesel or gasoline high-pressure cleaners contains highly toxic carbon monoxide. Make sure to always use the gasoline washer outdoors.
On the other hand, if it is an electric commercial pressure washer, it can be used indoors. But for cooling reasons, make sure there is some space around it.
Does a commercial high-pressure cleaner damage the paint coating on metal and wooden surfaces?
Yes. However, you can adjust the pressure gauge to test on the surface first with a lower pressure. After that, adjust the pressure to start cleaning.
How to store my gasoline powered commercial pressure washer?
A common mistake people make is to leave gasoline in the washing machine. When you use the washer again, the deteriorated gasoline will be sucked into the engine, which will damage the engine. You need to add a fuel stabilizer to your gasoline.