As a generator factory, we are pleased to introduce you to the 13hp commercial gasoline generator, a real game changer in our industry.
This 13hp commercial gasoline generator is built to cater to everyone's power needs. Its powerful 13HP engine(188F), with a displacement of 389cc, provides reliable power for you.
BS6500's large 25L fuel tank capacity ensures that it runs for hours without interruption. Despite its powerful output, it has a mass weight of only 82kg.
What makes this generator different? its outstanding features. On the one hand, a fuel-efficient design ensures that this generator is both economical and environmentally friendly. Additionally, a low oil shutdown feature protects the engine from potential damage and extends its life.
The compact design and convenient wheelset make transport and storage a breeze. Whether you work in construction, farming or event management, this generator is the perfect solution for all your power needs.
In conclusion, we are proud to welcome the addition of our 13hp commercial petrol generator. Your power requirements can be perfectly met by this generator. This is a testament to the ingenuity and dedication of BISON and we are excited to see what the future holds for this exceptional product.
specification
| | |
| --- | --- |
| Model | BS6500 |
| Engine Model | BS188FE |
| Engine Output | 13HP |
| Bore x stroke | 88*75mm |
| Displacement | 389cc |
| Rated rotation speed | 3000 / 3600rpm |
| Rated frequency | 50 / 60hz |
| Rated voltage | 220 / 240v |
| Rated output power | 5.0kw |
| Max output power | 5.5kw |
| Starting system | Recoil start(Manual) / Key start(Electric) |
| Fuel tank capacity | 25L |
| Mass weight | 82kg |
| Overall dimension | 710 x 530x 550mm |
features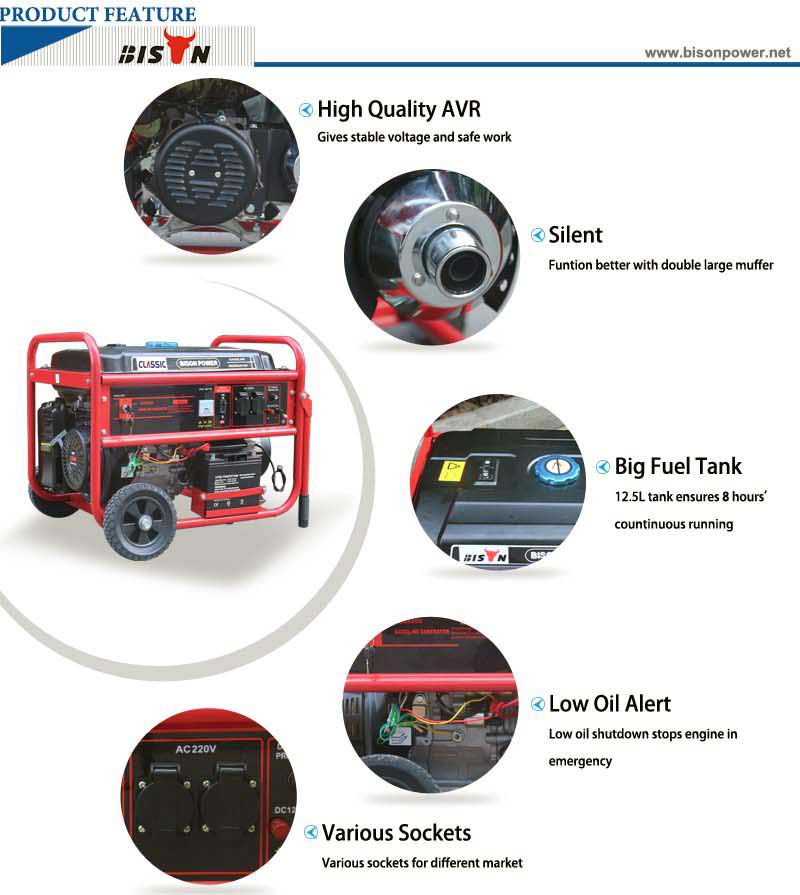 details