6.5HP ultra silent petrol generator is a powerful and reliable source of energy for all your business needs. This generator is designed to provide a high output of 2.2kw, making it ideal for powering essential appliances and equipment during power outages or in remote locations.
The engine of this generator boasts a displacement of 196cc, delivering an output of 6.5HP. It also features a fuel tank capacity of 15L, ensuring it can run for extended periods without requiring frequent refuelling.
This petrol generator is equipped with both recoil and electric key start systems, providing easy starting options. The compact design and overall dimension of 605 x 470x 435mm make it easy to transport and store when not in use. Additionally, the generator is designed to operate quietly, ensuring minimal disturbance to your surroundings.
The real magic lies in its ultra-quiet operation. BISON has carefully designed the advanced noise reduction system so that the generator can run in a whisper. You no longer have to suffer from the hum of traditional generators.
What's more, this gasoline-fueled generator boasts a compact and portable design, making it the ideal companion for any task large or small. The sturdy frame provides durability, while the easy-to-use control panel ensures a hassle-free experience for users of all skill levels.
In addition to all these impressive features, the 6.5hp ultra-quiet petrol generator also complies with strict environmental regulations, ensuring a reduced carbon footprint and a cleaner, greener future for us all.
Manufactured with high-quality materials and advanced technology, the ultra-silent generator is built to last. With its high output, easy starting options, and compact design, it is a great investment for anyone in need of reliable and portable power.
All in all, we fully approve of the 6.5hp ultra-quiet petrol generator as a top-notch solution for your business. BISON has truly outdone itself, creating a product that seamlessly combines power, silence and portability, all while keeping the environment in mind.
ultra silent petrol generator specification
| | |
| --- | --- |
| Model | BS2500 |
| Engine Model | BS168F-1 |
| Engine Output | 6.5HP |
| Bore x stroke | 68*45mm |
| Displacement | 196cc |
| Compression ratio | 8.5 |
| Rated rotation speed | 3000 / 3600rpm |
| Rated frequency | 50 / 60hz |
| Rated voltage | 220 / 240v |
| Rated output power | 2.0kw |
| Max output power | 2.2kw |
| Starting system | Recoil start(Manual) / Key start(Electric) |
| Fuel tank capacity | 15L |
| Gross weight | 41.5kg |
| Overall dimension | 605 x 470x 435mm |
| 20FT | 235 |
| 40HQ | 593 |
ultra silent petrol generator features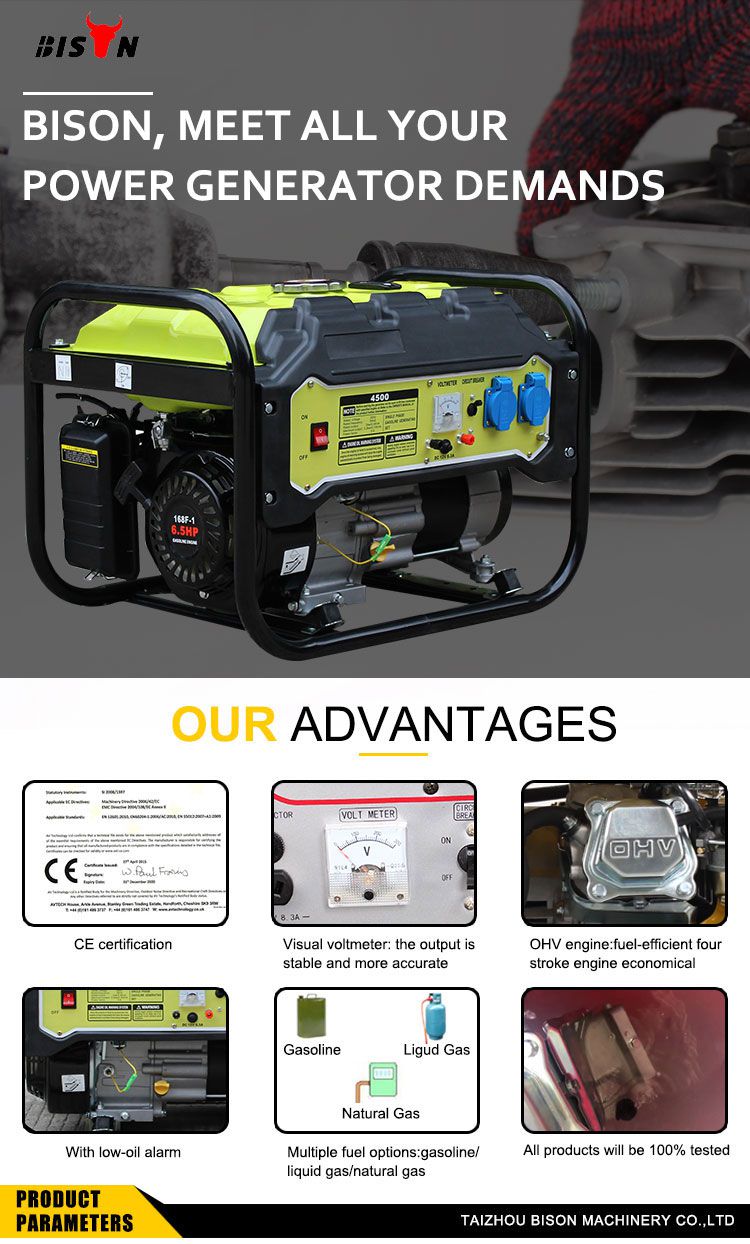 ultra silent petrol generator details