As generator manufacturers, we are pleased to introduce you to the latest innovation in the industry - four-stroke gasoline generators. If you're in the generator business, our 4-stroke gasoline generator, the BS3500, is the perfect solution. This generator can provide steady and reliable power for various applications thanks to its strong construction and powerful engine.
Reliability, efficiency and performance are the core principles behind this generator. The BS3500's dependable BS170F engine has a 210cc displacement and 7 HP. Its rated rotation speed is between 3000 and 3600 rpm, and its compression ratio is 8.5. With its 4-stroke engine, it not only provides smooth operation but also reduces noise and emissions.
You may easily start the BS3500 generator with either a manual recoil or an electronic key start. Because of its sturdy design, it can survive repeated use and last for a very long period.
You may have faith in the efficiency and dependability of your generator since our qualified team of experts makes sure that every unit satisfies our exacting quality control standards.
BISON four-stroke gasoline generators boast impressive output and easily meet the demands of a wide variety of applications. It's the perfect companion for construction sites, outdoor events, and even emergency backup power for homes and businesses.
Finally, 4-stroke gasoline generators are backed by a solid warranty and solid customer service from BISON. As professionals in the industry, we can vouch for their commitment to quality and customer satisfaction.
4 stroke gasoline generator specification
| | |
| --- | --- |
| Model | BS3500 |
| Engine Model | BS170F |
| Engine Output | 7HP |
| Bore x stroke | 70*56mm |
| Displacement | 210cc |
| Compression ratio | 8.5 |
| Rated rotation speed | 3000 / 3600rpm |
| Rated frequency | 50 / 60hz |
| Rated voltage | 220 / 240v |
| Rated output power | 2.8kw |
| Max output power | 3.0kw |
| Starting system | Recoil start(Manual) / Key start(Electric) |
| Fuel tank capacity | 15L |
| Gross weight | 45kg |
| Overall dimension | 605 x 470x 435mm |
| 20FT | 235 |
| 40HQ | 593 |
4 stroke gasoline generator features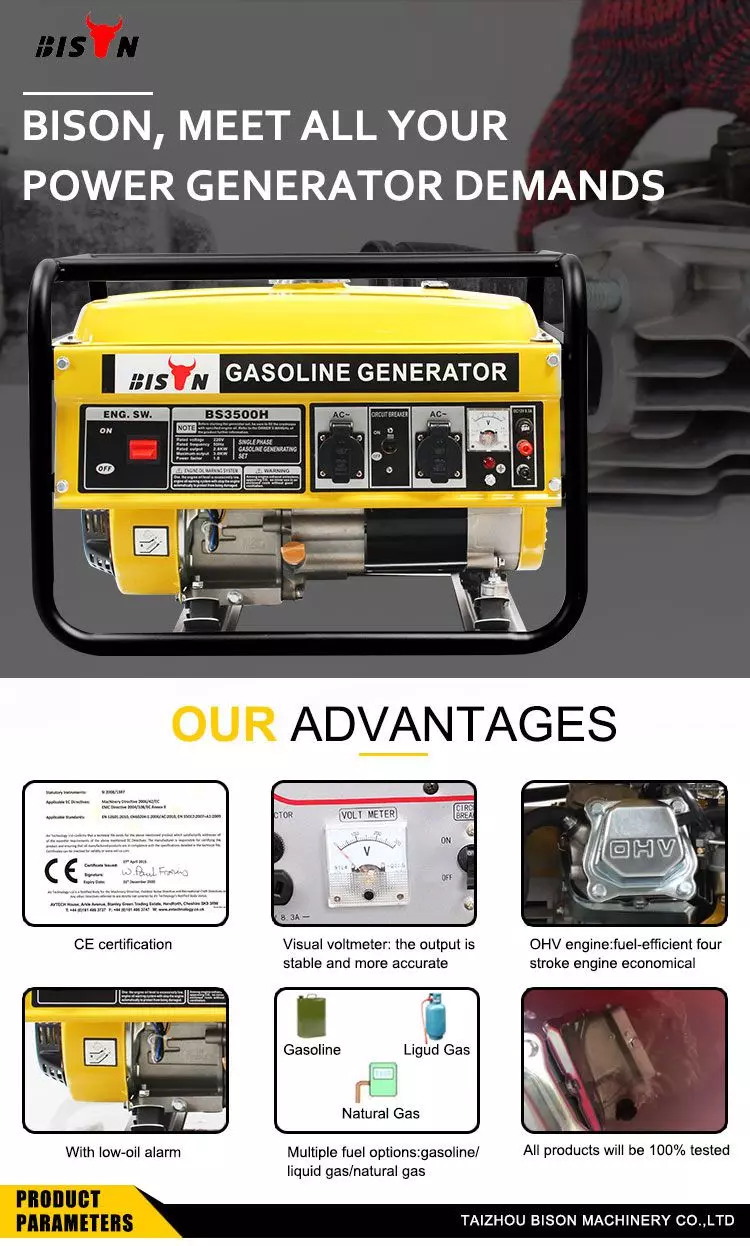 4 stroke gasoline generator details