BISON Dual Fuel Generator is the perfect combination of versatility and convenience. It can provide home backup in the event of a power failure, plus a built-in surge protector to prevent overload and ensure the safety of customer's equipment. They're great for residential use because they produce less noise.
2.8KW Generator was made for homes, cabins, and workshops. The generator is also great for RVs, boats, and other recreational vehicles as well as farmers who need to power their farm equipment in the field. You can even use it to run your shop or garage during an emergency outage. It has a low oil sensor so you don't have to worry about checking the oil levels every time you use it.
The 2.8KW dual fuel generator is great for those who need the extra power when they need it most. This generator has enough capacity to run all of your appliances at full capacity, even if you have several running at once. The 2.8KW dual fuel generator is perfect for larger homes and businesses that require more than just one appliance at a time but don't want to sacrifice performance by going with a smaller model. clean-burning
The commercial grade engine provides a clean-burning, reliable source of power that can be used anywhere in your home. The high capacity battery ensures you have enough backup power to last through even the longest outages.
The clean-burning hot surface igniter feature allows the 2.8KW dual fuel generator to burn cleanly without emitting any harmful pollutants into the air around it while it's running. This makes it ideal for use indoors or outdoors because it won't make breathing difficult or uncomfortable like other generators do when they're running
Use gasoline or LPG to operate the dual-fuel generator out of the box, and use our patented fuel selector switch to easily switch fuel, which can safely switch between fuel sources.

Being able to choose between gasoline and LPG has several advantages. Unlike gasoline, LPG is very stable and can be stored for a long time without sticking the carburetor or other components together. In addition, gasoline shortages caused by the storm can also be avoided. Propane is also much safer to store than gasoline and can be found at most grocery stores along with other home products like grills and camping equipment.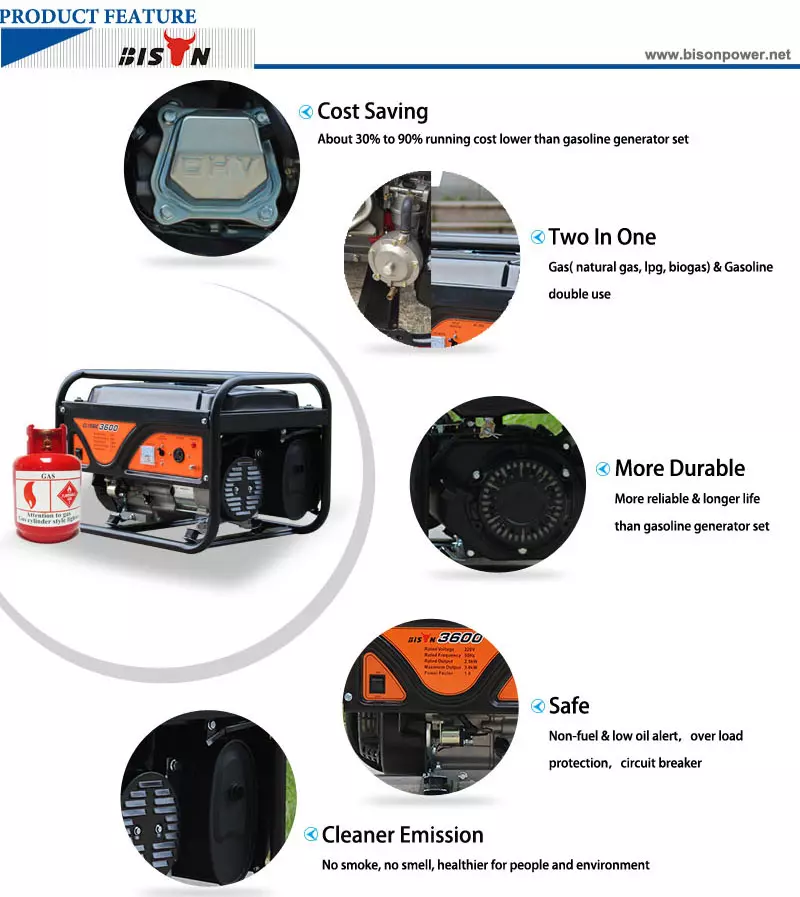 BISON 2.8kw LGP gasoline dual fuel generator specification
| | |
| --- | --- |
| Model | BS2800 |
| Max.A.C.output | 2.8kw |
| Rated.A.C.output | 2.5kw |
| Engine Model | BS168F-1 |
| Model | 6.5HP |
| Engine Type | single cylinder, 4-stroke,air-cooled |
| Igniting System | TCI |
| Starting System | Recoil/Electric start |
| Displacement | 196cc |
| Fuel tank capacity | 15L |
| Continuous operating time | 12h |
| A.C.frequency | 50/60Hz |
| Rated Voltage | 110/220V |
| Packing Dimension(mm) | 610*440*450 |
| Net weight | 43kg |
| 20FT Quantity | 235 |
| 40'HQ Quantity Set | 585 |
Q: Are LPG generators any good?
A: Propane is considered a "clean-burning" fuel, as it produces less pollutants than diesel and gasoline. Specifically, it produces only half as much carbon monoxide (CO) as gasoline. If fumes or pollution is a concern, propane is a good energy source to choose.
Q: Who should get this?
This is perfect for the home that needs a backup power supply. The 2.8KW Dual Fuel Generator is ideal for small jobs and light commercial use. It can run on both gasoline and propane, so you'll always be ready for an emergency.