BISON 3000-watt ohv generator is the ideal solution for those in need of dependable, convenient power. With its durable construction and powerful performance, this generator is perfect for use in a variety of settings, from camping trips and outdoor events to emergency power outages.
It delivers consistent performance with a powerful and reliable OHV engine. This ohv generator has a rated rotation speed of 3000–3600 rpm and a rated frequency of 50–60 Hz. Its maximum output power is 3.0 kW, and its rated output power is 2.8 kW. It is rated for 220/240 V.
BS3000 generator includes both a recoil start (manual) and a key start, making it easy to start and operate (electric). It has a large 15-litre fuel tank and may be operated continuously for several hours.
The 3000-watt ohv generator has a space-saving footprint that makes transport a breeze. It is the ideal companion for outdoor enthusiasts and professionals. Let's not forget about fuel efficiency. Plenty of runtimes ensures this generator works as hard as you do.
Overall, the 3000-watt ohv generator is a shining example of excellence in our field. As a generator manufacturer, we take pride in advancing our industry and recognizing the achievements of our peers. This ohv generator embodies the innovation, quality and reliability we all strive for.
3000 watt ohv generator specification
| | |
| --- | --- |
| Model | BS3000 |
| Engine Model | BS170F |
| Engine Output | 7HP |
| Bore x stroke | 70*56mm |
| Displacement | 210cc |
| Compression ratio | 8.5 |
| Rated rotation speed | 3000 / 3600rpm |
| Rated frequency | 50 / 60hz |
| Rated voltage | 220 / 240v |
| Generator | Rated output power |
| Max output power | 3.0kw |
| Starting system | Recoil start(Manual) / Key start(Electric) |
| Fuel tank capacity | 15L |
| Gross weight | 45kg |
| Overall dimension | 605 x 470x 435mm |
| 20FT | 235SET |
| 40HQ | 585SET |
3000 watt ohv generator features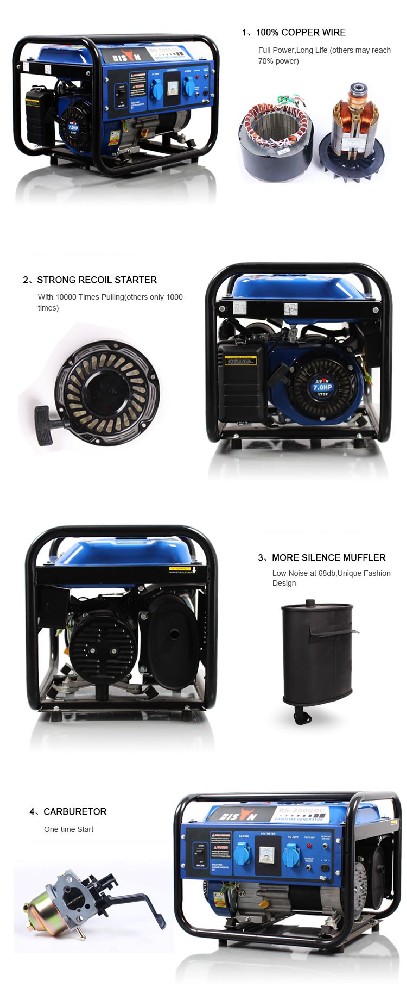 3000 watt ohv generator details