The 8.5KW Gasoline Generator is a portable generator that can be used to power your home, or even a business. It's great for emergencies or simply as a backup source of power.
The 8.5KW Gasoline Generator is portable and easy to move around with the built-in wheels and handle. It also comes with an automatic oiling system so you don't have to worry about mixing oil and gas yourself. The fuel tank holds 25 Litre of gasoline and has a fuel gauge on top so you can keep track of how much fuel remains in the tank at any time.
Characteristics of Bison 8.5KW Gasoline Generator generators:
The initial purchase cost is lower, but the maintenance cost is higher


The load must be kept relatively light, mainly supplying power to a single lamp, electronic device or appliance

A single cycle makes it less efficient, weaker and more prone to voltage interruptions

That it runs smoothly at all loads and produces very little noise thanks to its muffler and sound-dampening enclosure.

Gasoline models are often lighter weight and less expensive than diesel models. However, they produce more noise compared to their diesel counterparts

High quality, low price, best performance, easy to use and maintain.

Our products have been exported to Southeast Asia, the Middle East, Africa and other countries and regions, with good customer feedbacks from all over the world.
If you need a generator for home standby use during power outages or other emergencies, this generator can be used for a variety of purposes including powering lights, appliances and more as long as they are less than 8500 watts total power consumption (8500 watts maximum load). This generator is not recommended for use as an RV power source due to its size limitations

Bison is a professional manufacturer of industrial generators. We have a strict quality control system to ensure that each product can meet international standards. We also have our own patent products in the market.
8.5KW gasoline generator specification
| | |
| --- | --- |
| Engine Model | BS192F |
| Engine Output | 18HP |
| Bore x stroke | 92 x 66mm |
| Displacement | 439cc |
| Compression ratio | 8.0:1 |
| Rated rotation speed | 3000 / 3600rpm |
| Rated frequency | 50 / 60hz |
| Rated voltage | 220 / 380v |
| Rated output power | 8.0kw |
| Max output power | 8.5kw |
| Alternator | Aluminum / Copper |
| Starting system | Recoil start(Manual) / Key start(Electric) |
| Fuel tank capacity | 25L |
| Noise level (7m) | 85db |
| Net/Gross weight | 83 / 85kg |
| Overall dimension | 710 x 530 x 550mm |
| 20GP | 136set |
| 40HQ | 292set |
8.5KW gasoline generator details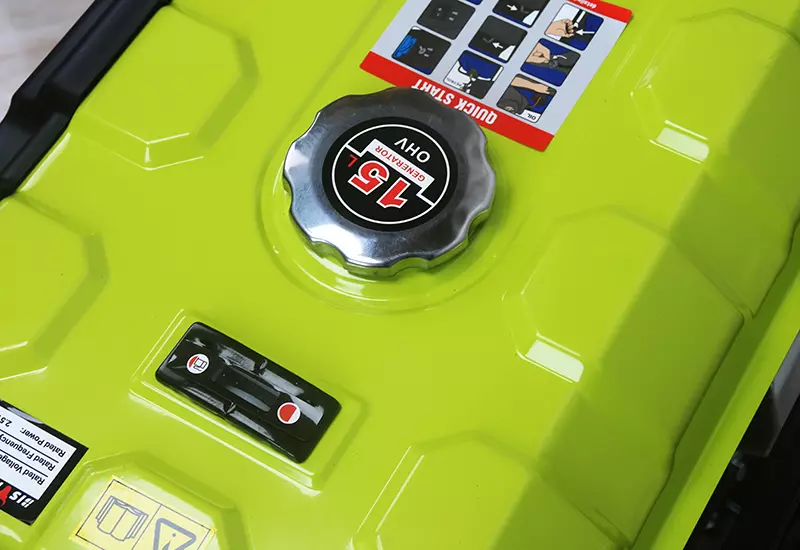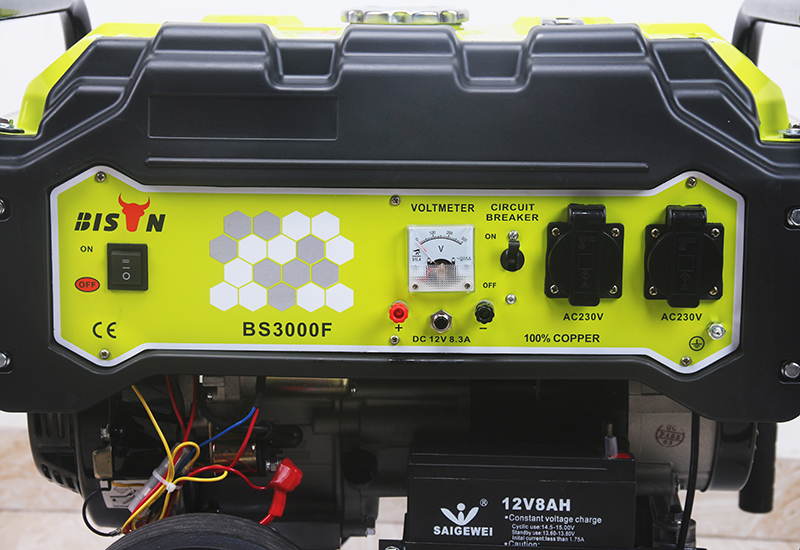 Q: What will an 8.5 kW generator run?
A: The Champion 100199 8.5kW Home Backup Generator provides clean power to your vital circuits to run your refrigerator, mini freezer, sump pump, lights, furnace, computer, security system, TV and more. You can even rely on it to run your 3-ton air conditioner during a utility power outage.
Q: Do I need a single phase or three phase generator?
A: continuous three-phase cycle using these three conductors provides a higher power factor for the generator, making the three-phase model ideal for larger applications such as powering industrial machinery. Meanwhile, single-phase generators are only suitable for small applications such as powering household circuits.