Introducing our latest innovation: lightweight air-cooled generator. A game changer for portable power solutions. Each generator component is created and assembled in our plant using cutting-edge technology, guaranteeing that each generator satisfies our strict requirements for quality and longevity.
Dealers and distributors, allow us to provide special additions to your inventory. Our lightweight air-cooled generators deliver power, and convenience.
While having a strong output, its modest weight (41.5 KG on average) gross weight makes it simple to transport and store. It is very light. Portability is essential for any generator, and our products set the standard. Easy to carry, compact design makes it ideal for your customers. The perfect companion for camping trips, outdoor activities, or emergency backup.
Air cooling technology. Say goodbye to overheating problems. The advanced air cooling system of BISON generators ensures stable power output and optimum performance. Even in hot environments, this generator maintains a cool demeanor.
Powerful and efficient. Don't let the stylish design fool you. BS2500 generator's engine produces an astounding 6.5 HP and a displacement of 196cc, giving you the power you need to keep your devices running. It has enough power to keep customers' devices and appliances running, and it's a lot of power in a small package. Energy efficiency is a top priority and our generators deliver on that promise.
low maintenance. The air-cooled system greatly reduces maintenance requirements. No more worrying about changing the oil or dealing with messy filters. This generator is designed to make your customers' lives hassle-free. You may be sure that the product you're getting will last for many years.
Expand your offerings. As other manufacturers, we understand the importance of providing diverse solutions to your customers. Our light-duty air-cooled generators are the perfect addition to your product range to meet your customer's specific needs.
Your success is our success. Partner with us and let's bring unparalleled reliability and convenience to our customers' lives. Experience the difference with our lightweight air-cooled generators.
Ready to boost your product lineup? Contact us today and let's build a strong partnership for a better tomorrow.
lightweight air-cooled generator specification
| | |
| --- | --- |
| Model | BS2500 |
| Engine Model | BS168F-1 |
| Engine Output | 6.5HP |
| Bore x stroke | 68*45mm |
| Displacement | 196cc |
| Compression ratio | 8.5 |
| Rated rotation speed | 3000 / 3600 RMP |
| Rated frequency | 50 / 60 HZ |
| Rated voltage | 110 / 220 / 230 / 240 / 380 / 400 /415 V |
| Rated output power | 2.0 KW |
| Max output power | 2.2 KW |
| Starting system | Recoil start(Manual) / Key start(Electric) |
| Fuel tank capacity | 15 L |
| Gross weight | 41.5 KG |
| Overall dimension | 605(L) x 470(W)x 435(H) mm |
| 20FT | 235 SET |
| 40HQ | 593 SET |
lightweight air-cooled generator features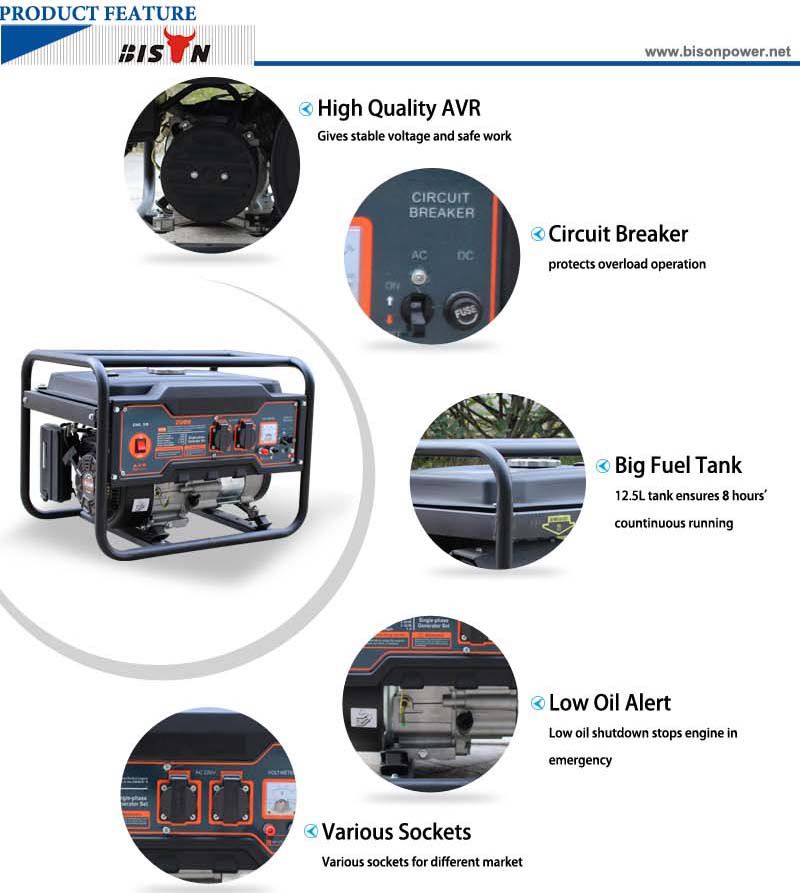 lightweight air-cooled generator details