Introducing our new cheap gasoline generator, perfect for those who need an affordable and reliable source of power. This BS2500 generator has an engine output of 6.5HP, making it capable of handling most household and small business needs.
Aluminium was used to make the alternator, assuring durability and long-lasting performance. According to your taste, you can select a recoil start (manual) or key start (electric) method.
The lightweight, portable design ensures easy transport, making it the first choice for power bank needs. Its noise-cancelling technology ensures a peaceful experience whether you're working or relaxing.
The small but strong engine delivers consistent, reliable power while maintaining extremely low fuel consumption. Our generator's 15L fuel tank allows for hours of uninterrupted use without the need for periodic refuelling.
Overall, this gasoline generator is a fantastic choice for anyone in need of an affordable source of electricity. As generator factories, we appreciate the attention to detail in developing this inexpensive gasoline generator. Join us in celebrating the achievements of BISON as our inexpensive gasoline generators revolutionized the market with their undeniable value and superior performance.
cheap gasoline generator specification
| | |
| --- | --- |
| Model | BS2500 |
| Engine Model | BS168F-1 |
| Engine Output | 6.5HP |
| Bore x stroke | 68 x 45mm |
| Displacement | 196cc |
| Compression ratio | 8.5:1 |
| Rated rotation speed | 3000 / 3600rpm |
| Oil capacity | 15L |
| Rated frequency | 50 / 60hz |
| Rated voltage | 110 / 220v |
| Rated output power | 2.0kw |
| Max output power | 2.2kw |
| Alternator | Aluminum / Copper |
| Starting system | Recoil start(Manual) / Key start(Electric) |
| Fuel tank capacity | 15L |
| Noise level (7m) | 85db |
| Net/Gross weight | 41.5kg |
| Overall dimension | 605 x 470 x 435mm |
| 20GP | 235set |
| 40HQ | 593set |
cheap gasoline generator features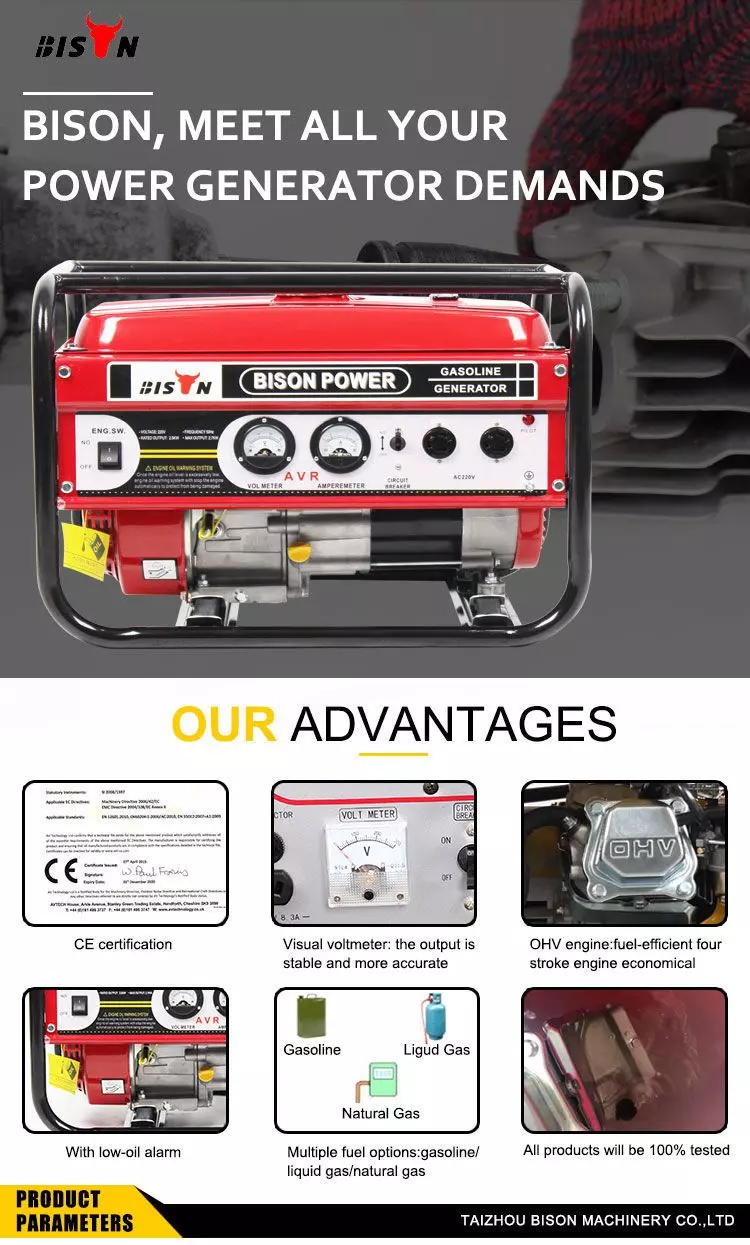 cheap gasoline generator details