2000 watt inverter generator is a dependable and adaptable power source for many different uses. It can power a variety of appliances and equipment with a rated voltage of 110V/220V and a frequency of 50/60Hz. It may be used in both domestic and commercial settings thanks to its rated power output of 1.6 KW and maximum power output of 2 KW.
The generator is simple to move and store because of its lightweight and compact design. You may use it for extended periods of time without needing to refill because of its 4L gasoline tank capacity, which offers a continuous operating time of up to 6 hours.
It is one of the quietest generators available, with a noise level of 58dba, making it perfect for usage in noise-sensitive environments. Even physically challenged people to find it simple to carry due to the net weight of 21.5kg.
This inverter generator is constructed with durability in mind. As it was put through extensive testing and using high-quality components, it can endure the rigours of harsh working settings. The engine is built to last and run efficiently, providing dependable performance regardless of the circumstances. The generator is made to need little maintenance, with simple access to the oil filler and air filter for routine inspections and maintenance. The fuel tank is constructed to resist challenging environmental conditions.
An excellent purchase for disaster preparedness is this generator. It can give you the electricity you need to continue using your necessary appliances and equipment in the case of a power outage.
But emergency power is not their only use. BISON 2kW inverter generator is usually used in construction sites, rear end and camping, barbecue and other activities, such as running, parades, markets or any place that cannot be reached by extension line. With the price falling, 2kW power inverter generator is becoming easier and easier for anyone who wants to keep a convenience.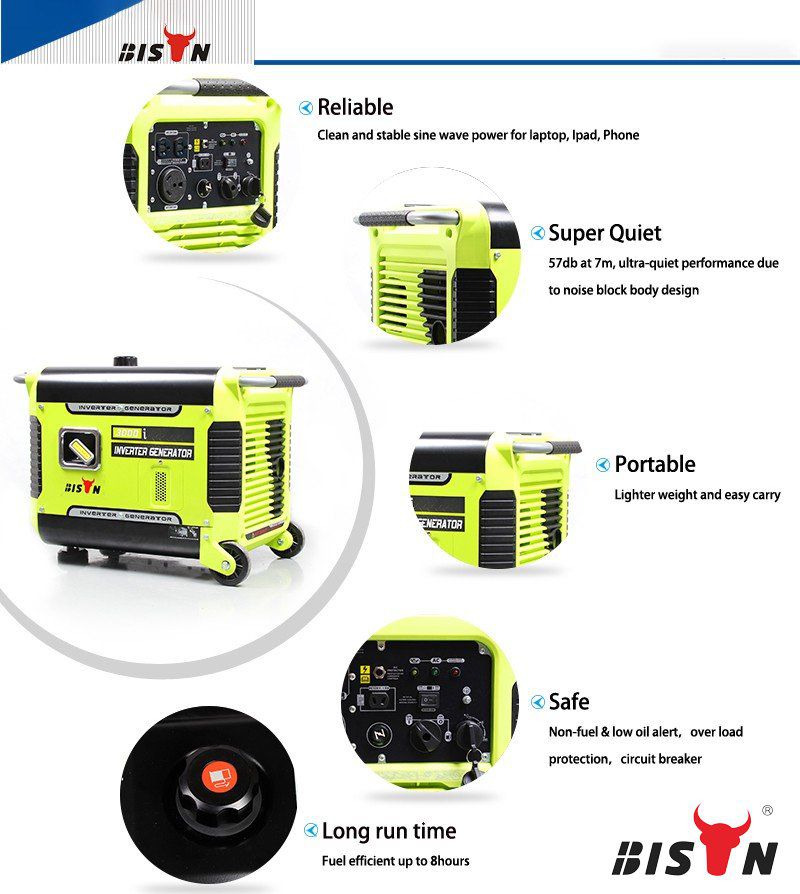 2000 watt inverter generator specification
| | |
| --- | --- |
| Item No. | BS2000I |
| Rated voltage | 110V/220V |
| Frequency | 50/60Hz |
| D. C. Output | 12V 8.3A |
| Rated power output(KW) | 1.6 KW |
| Max. power output(KW) | 2 KW |
| Type | Forced Air-Cooled, 1-Cylinder, 4-Stroke, OHV |
| Displacement | 79.7 cc |
| Ignition system | T.D.I |
| Recommend Fuel | Unleaded Gasoline |
| Fuel consumption | 400 g/KW*h |
| Fuel tank capacity | 4L |
| Continous operating hour | 6 h |
| Noise (7m away) | 58dba |
| Starting System | Recoil |
| Fuel gauge | Y |
| Auto voltage adjustor | on board |
| Low oil alert | Y |
| Circuit protector | on board |
| Certificates | CE |
| Net weight | 21.5kg |
| Packing size | 520*330*460mm |
| MOQ | 50 |
| Quantity 20GP/40HQ | 350/770 sets |
2000 watt inverter generator application
Q:
What is an inverter generator?
A: The difference between an inverter versus a standard generator is the type of electricity the unit produces. Like a standard generator, inverter generators have an alternator that creates AC electricity, but they also have a rectifier for transforming AC electricity into DC power.
Q:

Which is better inverter or regular generator?
A: Although inverter generators can't produce as much power as conventional generators, they are more efficient due to how the energy how the AC current is produced. The more efficient a generator is the less fuel is used and the smaller the fuel tank can be.