BSD20 semi-waste diesel pump, is a game-changer in the world of water pumps. BISON semi-waste pumps are designed for drainage, construction sites, municipal, agricultural applications and wherever portable semi-waste pumps are required. They are also ideal for residential uses, such as drainage in basements and swimming pools.
With an inlet/outlet size of 50mm (2 inches), this pump can handle a maximum flow rate of 36 cubic meters per hour and a pump lift of 26 meters. It has a maximum suction height of 8 meters, making it suitable for use even in areas with low water levels.
Powered by a single-cylinder, air-cooled, 4-stroke BS170F(E) engine, the BSD20 provides a maximum power output of 4 horsepower (3 kilowatts) and a rated power output of 3.7 horsepower (2.8 kilowatts). The engine oil system capacity is 0.75 litres, and the fuel tank has a capacity of 2.5 litres.
The semi-waste pump is used to transport water containing debris and solids up to 5/8" in diameter. But, for wastewater with slender weeds or a large number of leaves, please make sure to use a suction hose with a filter attachment.
The BSD20 diesel semi-waste pump uses materials with strength, wear resistance and corrosion resistance that meet your needs. The pump shaft is made of stainless steel, and the pump body is an integrated volute with a outlet steel and stainless steel studs. Other models use cast iron body, which can extend the service life under abrasion conditions, making it more suitable for working in gravel and sandy soil. With its exceptional performance and reliable operation, this is an excellent choice for anyone looking for a powerful and versatile pump.
BISON are committed to providing high-quality, reliable products that meet your needs. This pump is built with the manufacturing process that combines advanced technologies with traditional methods of craftsmanship. From the selection of raw materials to the final assembly, every step of the manufacturing process is carefully monitored and controlled to ensure that each pump is of the highest quality.
Semi-waste diesel pump specification
| | |
| --- | --- |
| Model | BSD20 |
| Inlet/Ourlet(mm) | 50 (2 inch) |
| Max Capacity (m3/h) | 36 |
| Pump Lift (m) | 26 |
| Max Suction (m) | 8 |
| Engine Model | BS170F(E) |
| Engine Type | Single Cylinder, Air Cooled, 4-Stroke |
| Bore * Stroke | 70*55(mm) |
| Displacement | 211cc |
| Compression Ratio | 20:01 |
| Maximum Power Output | 4hp/3kw |
| Rated Power Output | 3.7hp/2.8kw |
| Starting System | Recoil/Electric |
| Engine Oil System Capacity | 0.75 Liters |
| Fuel Capacity | 2.5 Liters |
| Dimensions(LxWxH) | 500*420*500mm |
| N/G weight | 35/37kg |
| 20FT Quantity Set | 224 |
| 40'HQ Quantity Set | 456 |
Features of Semi-Waste Pump
The biggest advantage of using a BISON semi-waste diesel pump over other types of pumps is that you can use them for many different purposes:
You can also use these filters to transfer water from one reservoir to another.

Ease of use. A semi-waste diesel pump is easy to install and use. They can be installed wherever you need them, and just as easily removed if you no longer need them.

Longer lifespan than other types of similar equipment. Semi-waste diesel pumps have a longer lifespan than other types of similar equipment, making them more cost effective in the long run.

High efficiency levels mean less fuel wastage than with standard pumps. Because they are so efficient, they can also help save money on fuel usage over time.

The powerful water pump increases the pressure to transport water over longer distances.

BISON engine with excellent weight-to-power ratio.

The steel roll cage protects the machine and provides an ergonomic handle for easy operation.

Built-in suction filter to protect the inside of the pump from larger solids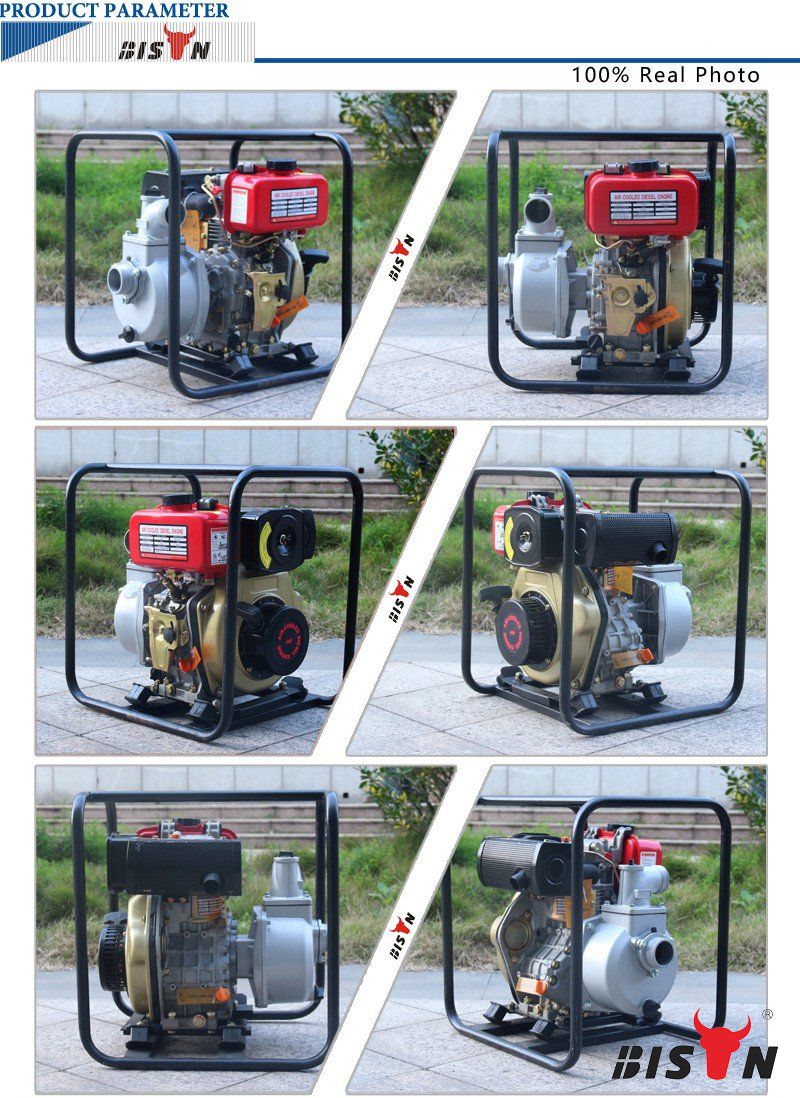 Q: Can fuel filters be washed and reused?
A: In general, the fuel filter is difficult to open, but it can still be cleaned to remove all kinds of dirt that have settled down. If the build-up is too serious, you should replace the air filter with a new one, because the dirt that has been deposited for a long time is difficult to clean and usually takes a long time