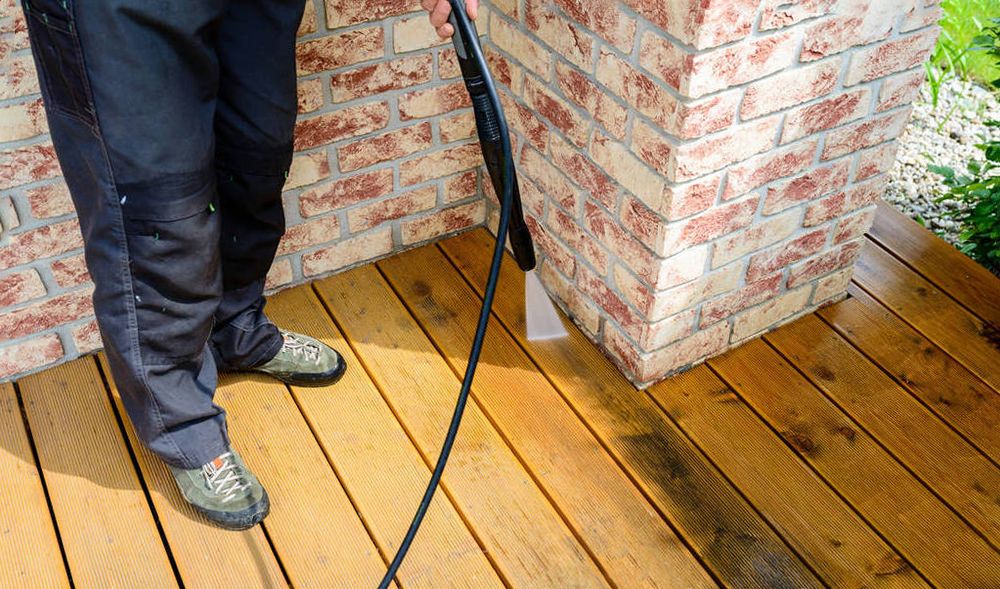 There is nothing more satisfying than cleaning up the dirty deck. How is this achieved? Pressure washer. BISON high pressure washer is the best tool for cleaning your deck or porch. If used properly, it can extend the life of your deck for many years. In this article, we will teach you how to pressure wash your deck to make your outdoor area look new!
The benefits of using a pressure washer:
Safely remove dirt, mould and old stains

Use ordinary water to eliminate the discolouration of the template surface

Safely peel off old finishes, including stains and paint
Is it safe to pressure wash decks?
Pressure washing your deck is absolutely safe as long as the correct precautions are taken. If you use a pressure washer with a PSI higher than 1500, you may damage the floor. This can cause the floor to be scratched and chipped. For softwoods such as cedar or pine, the optimum PSI for pressure cleaning is about 500-600 PSI. For harder woods, you can set it higher, but no more than 1200 PSI.
Choose the right nozzle and pressure setting for your floor:
Use a scalloped tip that spreads 40 to 60 degrees. If you have deck pressure washer attachments (such as BISON water brooms or surface cleaners), you can also use them for faster cleaning.
You can test your stress in an inconspicuous place. Start at 500 psi and gradually increase the pressure until you find the correct cleaning setting.
How to pressure wash a deck?
Before you start, you need to take correct precautions.
First, you should ensure that all children and pets are kept away to ensure that they will not be harmed.

Second, you must wear some protective equipment. This includes thick, sturdy clothes and makes sure to wear protective glasses.

Last but not least, remove any furniture and objects from the deck. Use some plastic sheeting to protect the surrounding area, such as bushes and flowers.
After making sure that you have selected the right nozzle and set the right pressure, you can start cleaning!
Keep the tip of the rod a few feet away from the surface of the deck and move it slowly, as far as possible to maintain this distance during the cleaning process.

It is important to walk with your pressure washer, not just rotate or move your arms. This may result in uneven cleaning or difficulty to clean all areas.
Final tip: make sure that each area overlaps slightly to avoid hot spots, missing spots, or visible clean edges. Don't let the nozzle stay in one area for a long time, even if you want to remove stubborn stains. If you need to use a deck cleaning solution to help it brighten up and remove stains. Make sure that the product is made for deck wood and can be used in a high pressure washer.