The best commercial high-pressure cleaner that meets your conditions and requirements should be used to support frequent cleaning.
What is a commercial pressure washer? A high-pressure cleaner is a machine that uses the power of pressurized water for cleaning. The commercial unit is even more outstanding, because its water consumption, electricity and life are better than conventional pressure washers. Depending on your specific application, one type of pressure washer may be more popular than another. At BISON, we have many types of commercial pressure washers to meet your specific needs, including: hot water electric pressure washers, cold water high pressure washers, diesel high pressure washers and electric high pressure washers, etc.
Hot water VS cold water commercial high pressure washer
Hot water high pressure washer and cold water high pressure washer have their own advantages and disadvantages, and there is no clear answer to which one is better. It all depends on your requirements, as well as the surfaces and objects you will be cleaning。
The main advantage of using a hot water high pressure washer is that it can process oil and grease with higher efficiency and it can bring additional anti-virus effects. Therefore, instead of adding detergent, it is better to use hot water. If you plan to clean surfaces that are too oily (for example, the floor of a car repair shop, outdoor grills, and the floor of a food processing plant), hot water will be a good helper for you. Cold-water high-pressure cleaners can compensate for the effects of oil stains by using detergents and chemicals. In addition, cold-water high-pressure cleaners have a wide range of practicability and are cheaper
Gasoline VS Electric commercial high pressure Washer
Similarly, there is no clear answer as to which is better, and both fuel sources provide certain types of benefits. The fuel source will change the overall use style of the high-pressure cleaner, as well as the appearance and overall feel

No wires: Portability is the main advantage of any gasoline pressure washer, and if you need to clean a larger surface, you will find this feature the most important. Therefore, you can also use gasoline commercial pressure cleaners in harsh outdoor environments.

Greater power: In terms of raw power, nothing can compare to a gasoline engine. Be sure to test the surface you want to clean before cleaning. Strong force can sometimes cause irreversible damage.

Exhaust, noise: The two things you have to deal with are noise and exhaust. The sound of gasoline pressure cleaners is often much louder than that of electric motors, and the exhaust gas makes indoor work very difficult or even impossible. However, BISON also has a series of silent gasoline pressure washers, which can greatly reduce your worries. You can also consider an electric commercial pressure washer, it will not produce exhaust gas during the work process, the sound is much quieter

Maintenance: Maintaining a gasoline pressure washer is not complicated, but if you want to have a reliable pressure washer, you must perform regular maintenance. Electric pressure washers require far less maintenance than gasoline-powered washers.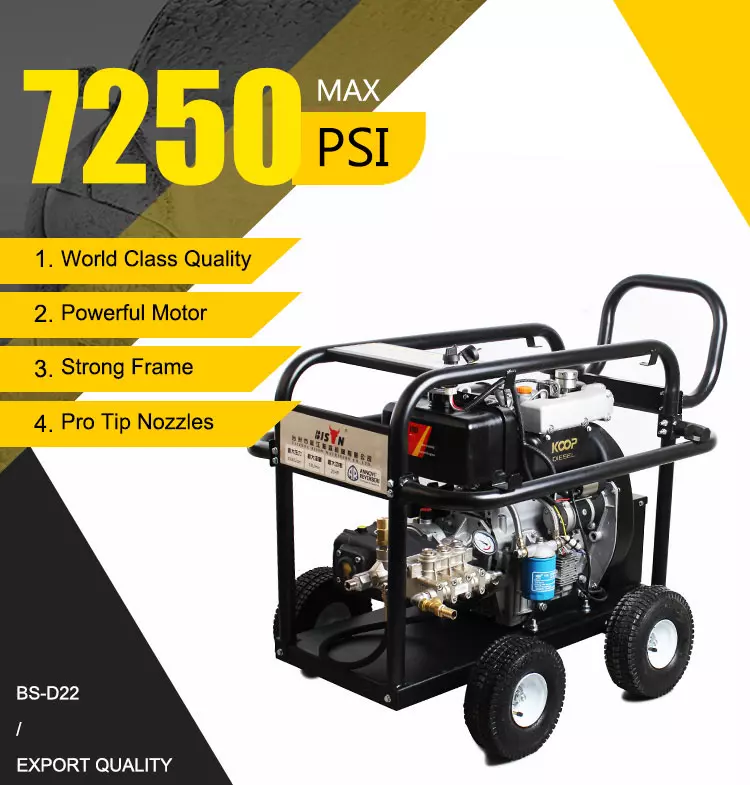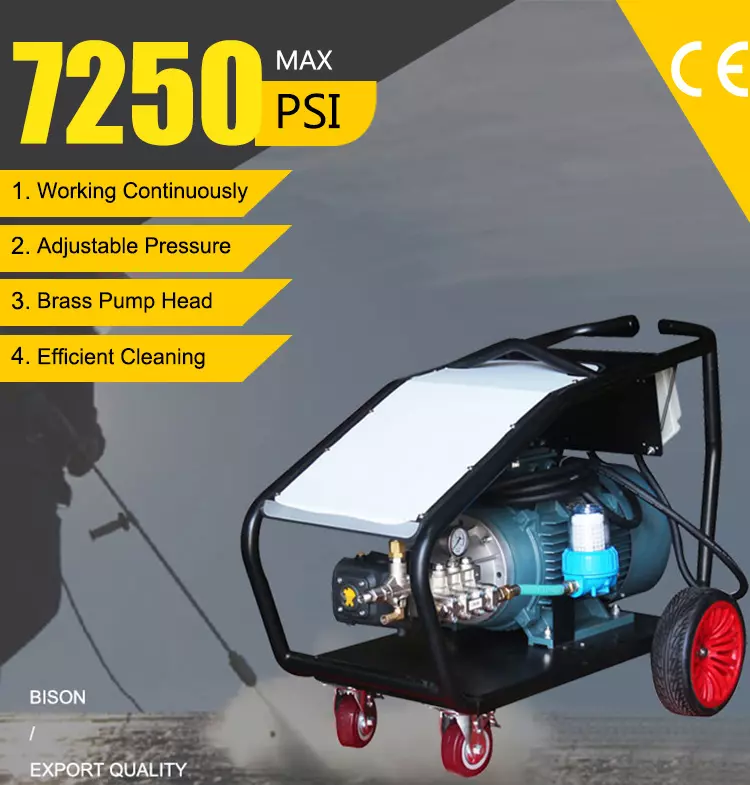 Now we have understood the basics of commercial high-pressure cleaners. However, before deciding which model is more suitable for you, you should understand the parts, functions and specifications. BISON provides customized commercial pressure washer.
How to choose a commercial pressure washer?
Overall strength and cleaning power
Various methods can be used to measure the power of a pressure washer. There are engine/motor horsepower ratings, wattage, and amperage, and finally the two most important numbers you should pay attention to are GPM, PSI
With a reliable pressure washer, you could remove stains from your driveway ten years ago, but if the washer doesn't have the right pressure-regulating module, you're more likely to damage wood surfaces. So, if you don't need to clean stubborn stains, then you may need a wholesale pressure washer with a lower cleaning intensity. If you've been dealing with grease and grime on hard surfaces, the more wattage your washing machine is, the better.
Portability and flexibility
Before you decide which model to buy, consider the weight based on the size of the surface and the items you clean most often. If you just want to clean your backyard from time to time, using a super heavy pressure washer will be troublesome. The next thing you should consider is flexibility. Usually, high-pressure cleaners are equipped with a 2-wheel or 4-wheel system.
Storage
It's great to have a powerful pressure washer, but you must also consider storage during your free time. Some foldable styles can greatly reduce your storage space
Versatility and additional functions
Automatic shutdown function: The function of the automatic shutdown function is to prevent the high pressure washer pump from overheating by turning it off. This function is mainly designed as a safety supplement, but it can also save you gasoline or electricity.
Adjustable pressure gauge: This function is designed for people who want to clean surfaces made of different materials, which can usually withstand different pressures. The strong impact of a high-pressure cleaner can easily damage sensitive floors and outdoor furniture.
Spray boom: BISON has a long spray boom that can help you reach corners and high places. Almost every model will have a wand, but if you can also wholesale floor scrubbers and water brooms to enhance the cleaning ability.
Safety tips for commercial pressure washer
Check the machine before starting up
Whether you use gasoline or electric model, be sure to check the condition of the pipes and hoses and the engine before starting. For gasoline pressure washers, you also need to check the oil level.
Protective equipment
When using commercial-grade models for pressure washing, always wear safety goggles and gloves.
Change settings
If the fuel is used up or the extension nozzle needs to be replaced, turn off the high-pressure washer before performing any operations.
Always use your hands
People often underestimate the power of a pressure washer. Please always hold it with both hands during the cleaning process. The recoil force during cleaning may cause injury if held improperly.